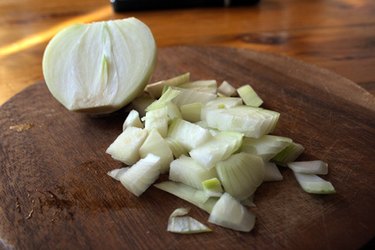 Wooden cutting boards should be made of maple or another closed grain wood to avoid food contamination. Oak and hickory are open grained wood and will be much harder to keep clean enough to avoid germs growing in the pores of the wood. The two primary concerns when finishing or staining a cutting board are preventing germs and maintaining use. Some finishing methods, such as mineral oil will require monthly care and reapplications. The correct application of a salad bowl finish will stain the wood and provide a durable surface that is easy to clean.
Step 1
Choose a varnish that is specifically made for salad bowls to ensure the varnish does not contain chemicals that will be harmful when working with food. This varnish comes in a variety of colors.
Step 2
Sand the cutting board on all sides to create a slightly roughened surface. Wipe the board with the dry cheesecloth to remove the dust created from sanding.
Step 3
Add equal parts water to the salad bowl finish and apply the mixture to a small area of the test wood to see how fast it is absorbed. If it is not absorbed immediately add more water to the mixture 1/4-cup at a time and continue testing until it is absorbed immediately.
Step 4
Lay some newspaper on a flat working surface. Lay the cutting board on top of the newspaper. Use the cheesecloth to apply the mixture of varnish and water directly to the top of the cutting board until it begins to seep out of the bottom of the board. Set the board on a vertical side to dry overnight.
Step 5
Sand the cutting board lightly and reapply the mixture until it seeps out the bottom. Set it on its side to dry overnight again. Repeat this process again until the finish doesn't absorb. Wipe the cutting board with a clean cloth.