Things You'll Need
Lint-free cleaning rag

Spray bottle

Water

White vinegar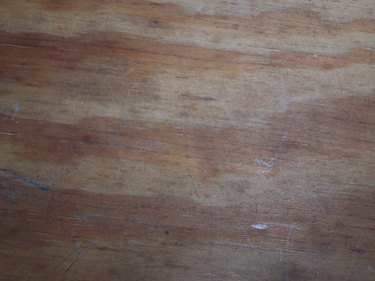 Whether you've just installed a wood floor or added some fresh trim to your windows or doorways, or even built a craft or furniture piece from scratch, you may find yourself in a situation where the unfinished wood needs cleaning, but you want to use something that won't affect the wood stain you plan to use in the near future. This means you have to use a type of cleaning solution that gets rid of buildup without leaving any residue behind, as the stain won't properly absorb otherwise.
Step 1
Fill a spray bottle with 2 cups water. Add 2 tbsp. white vinegar for heavily soiled, unfinished wood that has sticky residue or similar film buildup.
Step 2
Mist a lint-free cleaning rag with the spray. Don't use paper towels, as this will leave behind paper particles that may affect the staining of the wood in the future.
Step 3
Rub the damp cloth over the unfinished wood, rubbing with the direction of the wood grain to prevent splintering.
Step 4
Let the wood air dry fully before staining.