Similar to a wooden cutting board, sealing a breadboard is the best way to ensure it stays in good shape, no matter how much it's used. Food-safe oils and waxes protect the board, preventing it from absorbing moisture, which could affect its scent and its cleanliness.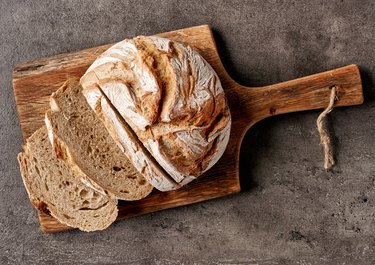 Food-Grade Mineral Oil
Although mineral oil is a petroleum product, some varieties of it are safe to use in the kitchen. Food-grade mineral oil, sold in big-box stores and in shops that sell cutting boards, can seal a new board and maintain one that's losing its water-repellent properties.
Pour a few tablespoons of oil onto the board, then rub it in with a white lint-free cloth. Wipe the sides, or end grain, down as well. The board will look oily if you've used enough oil. Wait five minutes or until the board absorbs the oil, then oil and wipe down the other side. Prop the board up vertically overnight in a dish-drying rack. Even if you plan to use only one side for cutting bread, sealing the other side protects it from moisture when washed. If the board still looks looks dried out after applying oil, apply one or more additional coats.
Refractionated Coconut Oil
Refractionated coconut oil, sold specifically as a board or salad-bowl conditioner, is another excellent sealant for a breadboard. Just like coconut oil used for cooking, this version is perfectly safe to use around foods. The main difference is that refractionated coconut oil lacks some components that could go rancid, giving it extreme longevity.
When to Reseason
Over time, the sealant used to protect the breadboard wears off. To tell when it's time to reapply oil or wax, wet your fingers and sprinkle several drops of water on the wood. The water should bead up. If the wood absorbs the water instead, it's time for a fresh coat of your chosen sealant. Apply enough for a thin layer, rub it in, then let it sit overnight.
Board Waxes and Butters
Commercial waxes or butters made specifically for cutting boards and wooden utensils can also season a breadboard. These products contain a blend of beeswax and a food-grade oil such as walnut or mineral oil. Make your own by melting 1/3 cup beeswax in a double boiler, then adding 1.5 cups mineral oil, stirring as you work. Pour the solution carefully into small tins or shallow glass jars. Once the solution cools, spoon a small amount onto the breadboard, then rub it in using a lint-free white cloth.
What Not to Use
Even though olive oil is completely safe to use in and around foods, it's not a good protectant for breadboards or wooden cutting boards since the oil turns rancid a bit faster than other oils. Over time, that breadboard would stink, which isn't exactly a good trait for an item used for bread. Also, avoid oils and varnishes that are not safe to use around food.
Why It Matters
Even though a breadboard can handle bread, which is relatively dry, the board could still absorb moisture when you clean it. Items within the bread, such as olives, cheese or raisins, could also get into the cracks as you slice bread. If you ever use the breadboard to slice non-bread items such as tomatoes or apples, the wood can also absorb those juices, allowing bacteria in, which makes the wood less safe for food handling. Moisture could also crack and warp the board over time.