Things You'll Need
Screwdriver

Painter's tape

Pencil

Paper towels

Dish detergent

Water

Bucket

Sandpaper

Damp towel

2 paint tarps

Paint can opener

Glaze

Paint (off-white interior latex)

Disposable mixing bowl

Disposable wood stir stick

2 rags (one rag is for applying glaze/paint mixture and one is for wiping it off)
Tip
Achieve a bolder glazed look by mixing three parts paint to one part glaze. For a fainter weathered look, mix three parts glaze to one part paint.
Warning
Crack a window for adequate ventilation before painting.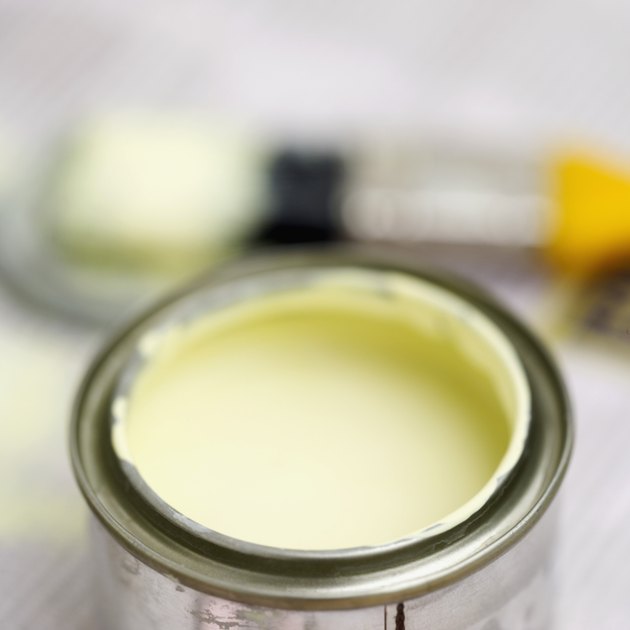 The warm and inviting ambiance of a French Country kitchen is the ideal environment for casual living and authentic cooking. Wide-plank wooden floors, earthy stoneware, wrought-iron lighting and stone counter tops typify French Country design. Rustic and weathered kitchen cabinets contribute to the timeless, old-world enchantment of the French Country kitchen. Glazing is a painting technique that can transform oak cabinets into a French Country look, when using the proper painting supplies, instructions and a little elbow grease.
Step 1
Remove all knobs and handles from cabinet drawers and doors. Tape over cabinet door hinges or remove the cabinet doors for painting. If removing cabinet doors, don't forget to label them with a pencil before removing them, matching the hardware to the coordinating cabinet. This makes it easy to correctly reposition cabinet hardware upon completion of painting.
Step 2
Fill a bucket with warm water and add a squirt of liquid dish detergent. Use paper towels to thoroughly clean all cabinet surfaces with bucket solution. Dry off any remaining liquid.
Step 3
Sand cabinets, doors and drawers lightly with sandpaper. After sanding is completed, wipe sanded surfaces with a damp towel.
Step 4
Spread the paint tarps under cabinets and over counter tops.
Step 5
Open the can of glaze and white paint with the paint can opener. Pour one part glaze to one part paint into the mixing bowl and stir thoroughly.
Step 6
Dip one rag into the glaze/paint mixture and rub the rag onto a cabinet surface with straight strokes, going with the grain of the wood. Work on small cabinet sections at a time, wiping on the mixture and then wiping it off quickly with the dry rag. Reapply the mixture and wipe it off until reaching the desired antiqued look. Make sure the mixture saturates cabinet grooves and crevices, giving them a more weathered appearance.
Step 7
Repeat Step 6 for each cabinet and drawer surface, working with small sections at a time.
Step 8
Reapply hardware and cabinet doors after cabinets are thoroughly dry. Drying time is commonly eight hours, but refer to the paint and glaze can labels for manufacturer's instructions.
---
Mary Cockrill's education and certifications in interior design and home staging have allowed her to author numerous home-related articles. Cockrill has been a top design consultant for a renowned home store and is the owner of Starwood Home & Gifts, LLC, an interior design, decorating and home staging business. She holds a Bachelor of Science in secondary education with a comprehensive major in office administration.