Restaining kitchen cabinets is a great way to update the look and feel of your kitchen, for a fraction of the cost of replacement. Typically, restaining cabinets is a long and involved process, but it doesn't have to be. There are less time-consuming ways to accomplish updating the look of your kitchen cabinets, using some quick and easy restaining methods and the right set of tools.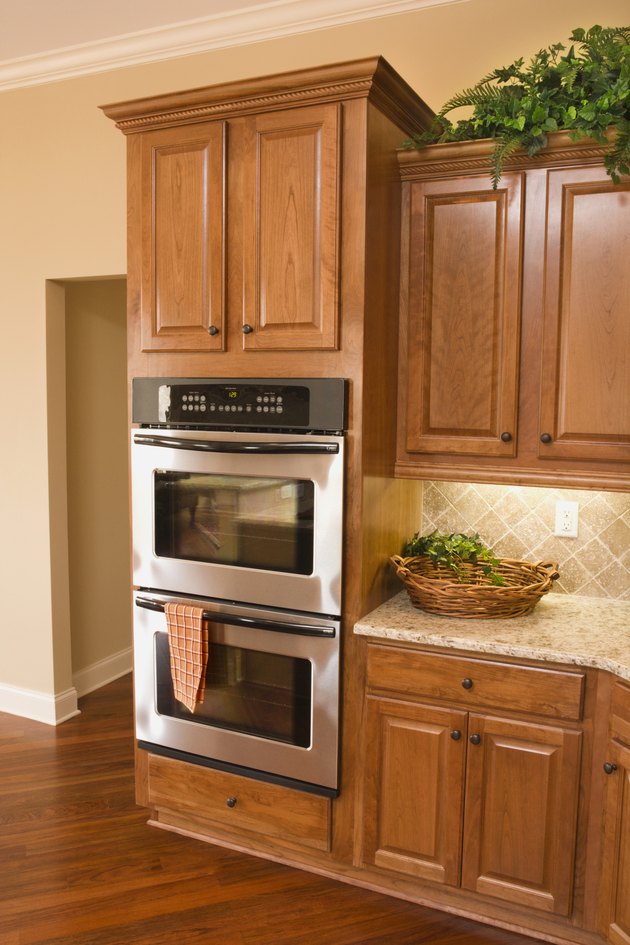 A tinted varnish changes the appearance of kitchen cabinets without being overly drastic. Tinted varnishes provide a new sheen to cabinetry, enhancing the original woodwork by deepening the color richness with subtle hues. The application takes only a few hours and requires no special tools other than a paintbrush. While applying tinted varnish is faster than refinishing cabinets, you will still have to prepare the surfaces by removing knobs, pulls, cabinet doors and drawer facings, and cleaning and sanding your cabinets before application.
Gel stains come in a wide variety of color choices. A gel stain gives you a complete color change solution, but only if your goal is a darker stain. It doesn't take long to apply a gel stain with a paintbrush — the process is very fast, with minimal drying times; however, the basic area preparation required is similar to the prep needed for application of tinted varnishes.
Selecting the right products to prepare kitchen cabinets before restaining them plays a big role in how quickly you can complete your project. Cleaning the drawers, cabinet doors and other surface areas with trisodium phosphate (TSP) helps remove buildup and stains much more quickly than using just soap and water. Using sanding sponges or 120-grit sandpaper and hand-sanding the finish before applying the stain means the stain will go on more quickly and evenly than if you opted to skip this step.
Applying the stain or varnish with the existing grain of the cabinets results in a more professional look. Once the stain or varnish is applied, wait 24 hours for it to dry, or follow the the drying times listed on the packaging if you purchased a quick-drying varnish or stain. Reapply stain and varnishes in thin coats to achieve darker colors, allowing adequate drying time between each coat. Experts at the Painting and Decorating Concourse recommend china-bristle brushes for the best results.