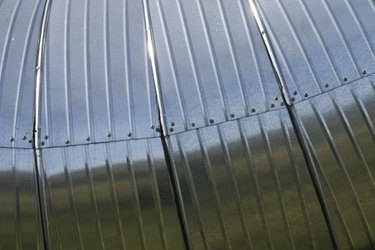 Ducts are the branches of the heating and cooling system of your home that provide the airflow from the main blower unit to the rest of the home. If an addition to the home is being made, or the system was inadequate due to age or other issues, new ducts or extensions can be added. Proper flow of air is the main concern. The system needs to be able to handle additional ductwork and it must be installed properly to get the benefit of duct extension.
Step 1
Measure your ductwork and identify the exact size and type already in use. Measure the length of new duct you need to add and purchase the matching size and type.
Step 2
Place the new piece of ductwork against the existing line and draw a template for the new opening on the duct already installed.
Step 3
Cut the new opening with tin snips. Wear work gloves to protect your hands from cuts.
Step 4
Attach a duct collar to the existing duct with galvanized screws.
Step 5
Place the new duct into the collar and attach it with galvanized screws.
Step 6
Run the duct extension to the new location and fasten it to the vent or area where it is being installed.