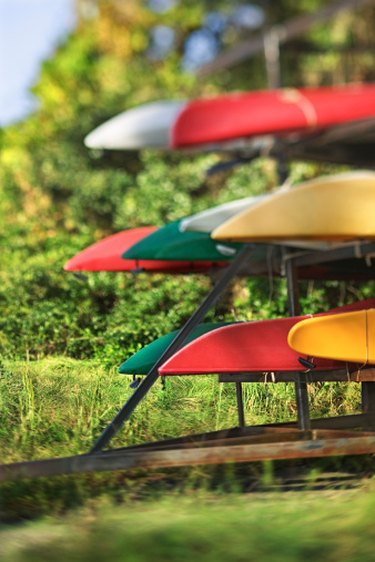 Kayak storage racks are intended to keep kayaks off of the ground or floor. The spots that hold the kayaks should be wide and high enough to hold a variety of kayaks. Sea kayaks tend to be narrow and long, while day kayaks can be a little wider and shorter. A kayak rack about 8 feet long should be able to hold four kayaks stacked on top of each other. Kayak racks can easily be constructed out of yard lumber and basic hardware. The racks do not need to be heavy-duty because kayaks tend to be light-weight.
Step 1
Lay two 96-inch boards on edge so they are parallel and 37 inches apart. Set two 37-inch boards between them so they are perpendicular to the 96-inch boards and so they are spaced 93 inches apart. The sides of the 37-inch boards should be flush with the ends of the 96-inch boards. Screw through the 96-inch boards and into the 37-inch boards. Use eight screws for this task. This frame will function as a shelf to hold one of the kayaks. Repeat this step three more times so you have four frames.
Step 2
Set each frame on top of another so all of the boards are aligned. Position a 84-inch board perpendicularly inside each corner of the stacked frames. The ends of the 84-inch boards should be flush with the bottom edges of the bottom frames. Screw through the bottom frame and into the boards. Use two screws for each corner.
Step 3
Screw the other three frames to the 84-inch boards in the same manner as you did in the previous step. Space the frames 17½ inches apart.
Step 4
Slide your kayaks between the 84-inch boards that are 30 inches apart. Let the kayaks rest on the edges of the 37-inch boards.