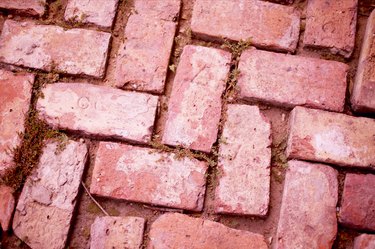 Pavers can be concrete blocks, bricks or stones. They can be formal shapes, squares or rectangles, or irregular shapes, like flagstone and fieldstone. They can be used to make patios, build walkways or even pave driveways. What they have in common is that all must be laid on a base of compacted gravel, usually topped with a sand layer or some other filler in between the pavers to secure them.
Match the Gap to the Paving
Size the gap between pavers according to the type of paver and the type of paving. Lay concrete block pavers for a patio close together, with edges touching. Space bricks or flagstones on a patio with wider gaps or arrange bricks with smaller seams in a herringbone or similar decorative pattern. In general, set concrete pavers closer than other materials.
Walkway Gaps
Leave wider gaps in stones and bricks used as walkways. Consider making stone walkways in stepping stone fashion, with broad spaces between each stone to be filled with decorative gravel or sod. Flagstone or fieldstone can be especially attractive when gaps are filled with colorful pea gravel. Keep spaces to about 1/2-inch unless laying pavers in stepping stone fashion.
Gaps as Accents
Fill spaces between brick pavers with stone dust or dry cement to create a decorative wall-like look. The color contrast between red brick and white seams will accentuate the pattern of brick pavers. Try a similar effect with concrete block pavers in varying colors, with contrasting colors of gravel or cement fillers between pavers. Pea gravel in stone paver gaps creates a similar effect.
Use Sand
Use sand as the basic element to seal gaps between pavers, especially those set close together when the filler is mainly to solidify the pavers and not to provide a decorative accent. Use polymeric sand for a stronger bond; this type has an ingredient that hardens when dampened to make a stronger joint between pavers.
---
Bob Haring has been a news writer and editor for more than 50 years, mostly with the Associated Press and then as executive editor of the Tulsa, Okla. "World." Since retiring he has written freelance stories and a weekly computer security column. Haring holds a Bachelor of Journalism from the University of Missouri.