Things You'll Need
Plywood sheets (3/4-inch)

Tape measure

Saw

Upholstery fabric

Batting or foam (optional)

Staple gun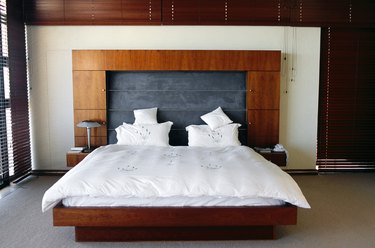 Bunkie boards are used in place of box springs to provide support to a mattress in a bed frame and prevent the mattress from sagging in the middle. Bunkie boards are typically used in bunk beds but can be used in other forms of bed frames, such as platform beds. Making your own can be very easy and save money, compared with buying one from an expensive furniture store. Another advantage is that you can customize your bunkie board to your preferences and tastes.
Step 1
Gather your supplies. To make a king size bunkie board, you will need to purchase two sheets of 3/4-inch standard 4-by-8-foot plywood sheets. Measure the inside of the bed frame to see if the board needs to be cut slightly longer or shorter than a standard 76-by-80-inch king size mattress.
You will have to cut your plywood to fit by cutting it into two approximately 38-by-40-inch sheets. Most home improvement stores will cut lumber to an approximate size for free or a small fee. Test the fit of these boards in the frame before covering them to ensure a proper fit. If necessary, trim the boards to fit.
Step 2
Cut your batting or foam a few inches larger than the boards and place the plywood on top of the batting or foam if you have decided to pad your bunkie board. Staple the batting to the plywood around the edges, pulling it tight so that the batting or foam does not wrinkle or move around.
Step 3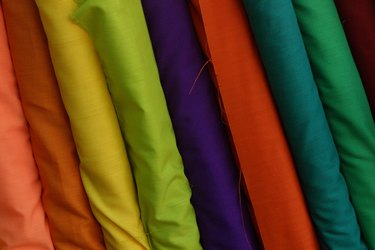 Choose your upholstery fabric or other thick fabric. Most fabric comes in rolls 45 to 60 inches wide. You will need at least 4.5 yards of fabric to cover the bunkie board.
Lay the fabric on the floor, wrong side facing up. Place the board on top of the fabric, checking to make sure there are no wrinkles in the fabric. If you have chosen to pad your bunkie board, the padding or batting side should be facing down touching the fabric. Staple the fabric to the board while pulling it tight to give it some tension to make sure that the fabric will be secure.
Step 4
Place your bunkie boards into your frame, fabric side up. Put your mattress on top of the bunkie boards.
Tip
Using fabric on your bunkie board will help prevent it from scratching or damaging your mattress, bed frame or bedding. Using thick fabric will ensure that your board is durable and will resist normal wear and tear.