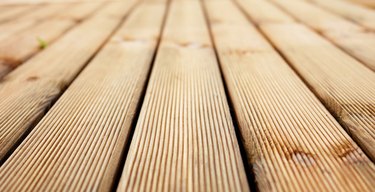 Wood is a common choice in material for constructing outdoor decking, railing and support posts. Different wood types, like redwood and pressure-treated wood, can be used for these applications.
Redwood
Redwood comes from California's redwood forests, and is used for its aesthetic red appearance and beauty. A high grade type of redwood will resist insect harm and rot. A drawback to redwood is its high cost, so much so that redwood use is often kept at a minimum for only part of a construct that is visible.
Pressure-Treated Wood
Pressure-treated wood is normally made with yellow pine and coated with a chemical called chromated copper arsenate. This treatment allows the wood to be resistant to insects, bacteria and fungi. The cost of this wood can be 30 percent to 40 percent less expensive than redwood.
Considerations
Redwood specifically designed for structure use is still a natural wood, but pressure-treated wood contains harmful elements, such as arsenic, copper and chromium. Care must be taken when installing this type of wood by using face masks and gloves to reduce contact with these chemicals.
---
Writing professionally since 2010, Amy Rodriguez cultivates successful cacti, succulents, bulbs, carnivorous plants and orchids at home. With an electronics degree and more than 10 years of experience, she applies her love of gadgets to the gardening world as she continues her education through college classes and gardening activities.