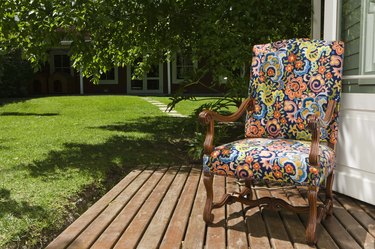 Composite lumber is made from wood fiber or other fillers such as fiberglass or rice hulls, and plastic material. Some companies use 100 percent recycled ingredients, making them a competitive environmentally conscious choice. When wood is present, it usually constitutes half of the board's weight. Composite lumber is highly resistant to rot and insects, making it a suitable choice for ground contact, under the right circumstances.
Dangers of Wood-Soil Contact
Two primary problems occur when the wrong wood is chosen for a project requiring ground contact: rot and insect damage. Wood cannot rot if the moisture content is kept low enough, but moisture is continually seeping from the ground in moist climates. Therefore, untreated, nonresistant wood will quickly rot, making structures dangerously unstable. Also, 90 percent of termite infestations begin with wood-soil contact. Termites, too, will make wood dangerously unstable. Composite lumber is highly resistant to rot and impervious to insects so is an acceptable choice ground contact.
The Ground Is Not The Problem
While composite lumber is an acceptable building material for applications requiring ground contact because of insect and rot resistance, it is not acceptable to use for support structures. It is not strong enough and cannot reliably bear heavy weight. While it does not experience the moisture and insect problems of many other types of construction wood, it cannot bear the weight that other outdoor woods such as redwood can. For projects like decking, wood that comes in contact with the ground is often a support beam or joist.
Uses For Decking
While composite lumber cannot be used for structural deck supports, it is an appropriate choice for deck boards, rails and posts. If the deck boards are on the ground, such as with a ground-level patio deck, composite lumber works fine. It cuts and nails like genuine wood, it's splinter-free and deck screws sink in easily and disappear. Composite lumber is also maintenance-free, does not require staining or sealing and it does not rot, chip or warp. However, it is expensive and can cost as much as twice the price of construction heart-grade redwood.
Other Ground-Contact Uses
Composite lumber is an ideal choice for raised-bed gardens. It is rot and insect resistant and does not present the same environmental concerns as treated lumber, which can leach chemicals into the soil. It can also be used in non-structural marine applications, such as fender piles, and for otherwise reinforced playground equipment. Depending on the structural requirements, composite lumber can also be used for retaining walls. As products vary, contact the manufacturer for your particular composite wood's structural and other limitations before building.