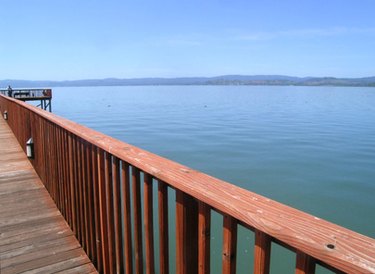 A few woods are naturally resistant to termites, including cedar and redwood. Only certain parts of these woods are resistant, the heartwood and occasionally the bark. Pressure-treated wood is resistant to insects and decay, and lasts longer than un-treated wood. Another option is wood and plastic composite materials that are impervious to insects and do not warp or rot.
Pressure-Treated
Pressure-treated wood is created with the use of pressure and vacuum cycles where a preservative is embedded in the pores of the wood. This forms a chemical barrier that resists termites and decay. There are two basic chemical preservatives used to treat wood, alkaline cooper quaternary (ACQ) and copper boron azole (CBA), which replaced the previously used chromate copper arsenate (CCA).
Naturally Resistant
The heartwood of some woods is naturally resistant to termites. Redwood and Alaskan cedar, also known as Pacific Coast yellow cedar, are two of the woods that have natural resistance to termites and decay. Alaskan cedar is shown to be a little bit hardier against subterranean termites than redwood in a study performed by the University of Hawaii. Another wood that proved resilient against subterranean termites in this same study is the Laotian teak. Other woods that performed well in the study include sugi, kamani, milo, kou and tallowwood, which is used primarily for construction in Australia.
Malaysian Woods
A few of the woods native to Malaysia and Hawaii are toxic to subterranean termites. These include the tualang, casuarinas pine, sentang and the kempas. The heartwood of these woods has been proven in studies researched by the University of Hawaii to be toxic to Formosan subterranean termites.
Composite Materials
The use of waste wood fiber and plastic comprise a composite material used in construction that is impervious to insects. Composite materials require no maintenance, won't warp, chip or rot and generally possess guarantees that range from 10 to 50 years.
---
Keith Allen, a 1979 graduate of Valley City State College, has worked at a variety of jobs including computer operator, medical clinic manager, radio talk show host and potato sorter. For over five years he has worked as a newspaper reporter and historic researcher. His works have appeared in regional newspapers in North Dakota and in "North Dakota Horizons" and "Cowboys and Indians" magazines.