As an imported hardwood, one variety of teak is farmed on plantations in Indonesia, Africa and Latin America. Sometimes referred to as plantation teak, it supplies the bulk of teak used domestically. Burmese teak grows naturally in Myanmar or Burma. When sold domestically, the distinction between plantation and Burmese teak is typically not recognized because of its lack of significant differences.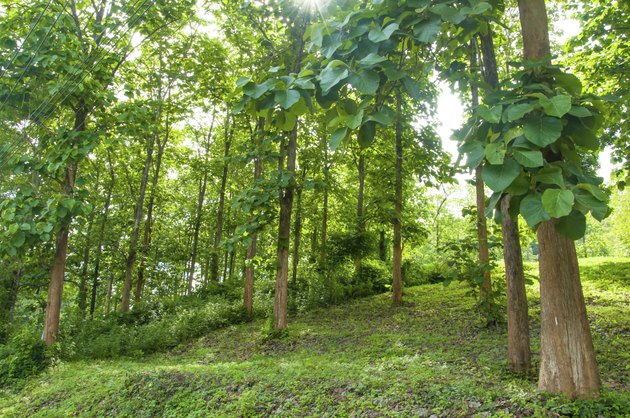 credit:
swisoot/iStock/Getty Images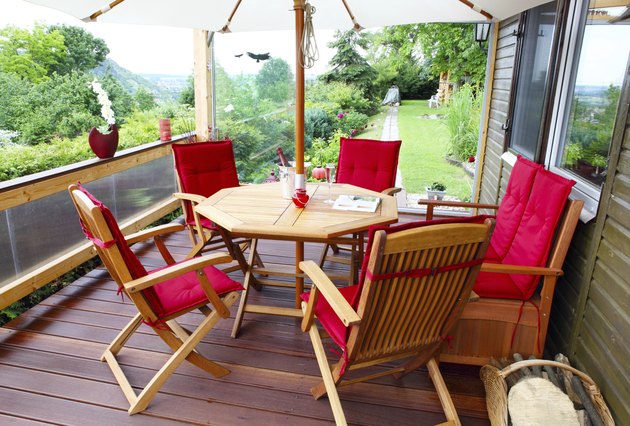 credit:
KayTaenzer/iStock/Getty Images
Teak has a high oil content resulting in the highest decay resistance among all natural lumber products. The high oil content also provides a natural resistance to weather and bugs to a lesser degree. Teak has natural resiliency, making it resistant to cracking and warping under humidity changes that wreak havoc on other types of hardwood. Because of its natural properties, teak has been a mainstay for wet-weather applications besides pools, lakes or near the ocean, such as teak boat docks, ship and boats hulls and decks and other functions that benefit from its natural resistance to the elements.
Indoor or Outdoor Furniture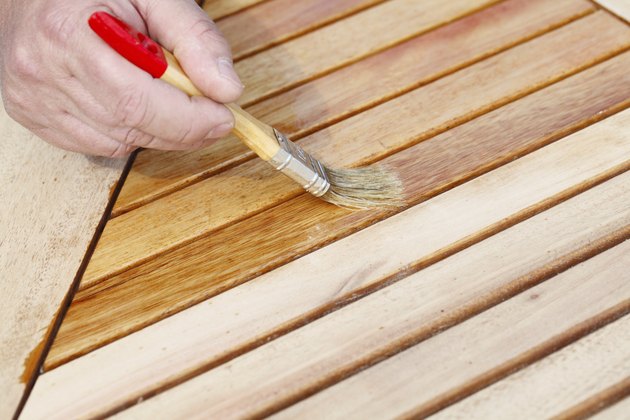 credit:
KayTaenzer/iStock/Getty Images
Grain patterns in teak are straight, but contain pockets of interlocked grain -- grain that turns at 90-degrees -- to break it up with swirls or waves. As a golden-brown color when fresh cut, its color deepens with age to a dark, reddish brown if used for custom cabinetry. Because of its natural color, teak doesn't need stain, but adding it enhances its tint. Teak can be left as-is after the final sanding, but it's recommended that some type of finish or sealer be applied, especially to prevent it from turning gray when used for outdoor patio furniture. Natural teak or linseed oil adds longevity, and if added at regular intervals, prolongs resistance to the elements. When used for tables or indoor furniture, it is among the finest, and most exclusive, of all the hardwoods.
Wood Carvings and Picture Frames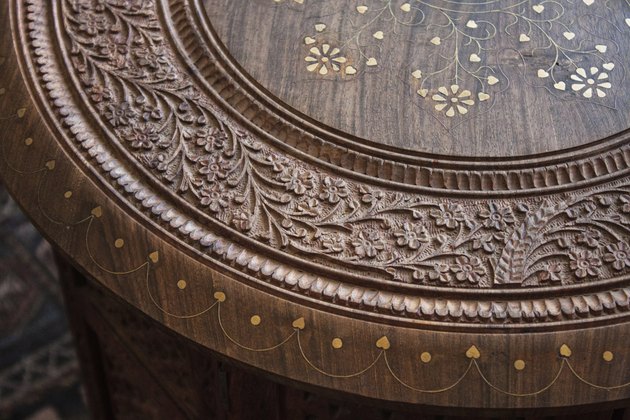 credit:
alfimimnill/iStock/Getty Images
As one of the most expensive of all the hardwood species, due in part to its high demand worldwide, it adds beauty, tradition and durability. Sometimes used universally for indoor flooring and as veneers for panels and furniture, it's also used for fine furniture, picture frames and candleholders, and as a carving wood for bowls, spindles, handles, knobs, knickknacks, plaques and mementos. Teak antiques are one of the most sought after types of older furniture.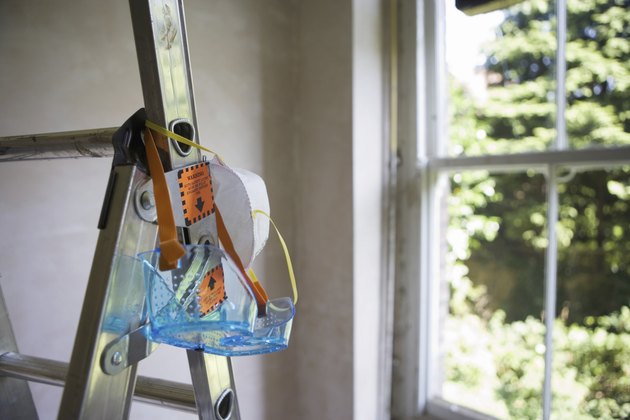 credit:
FlairImages/iStock/Getty Images
Density rating for teak is medium to low when compared to other hardwoods. On the Janka scale, a scale that ranks the density of wood, teak ranks only 1,000. For comparison, domestic hickory ranks 1,820 on the Janka scale. Even though teak is relatively soft as a wood, it actually blunts woodworking tools because of its high silica content, requiring carbide-tipped blades when cutting it. The high oil content of teak may also interfere with glue adhesion building cabinetry, making decorative boxes or patio furniture. Wipe the surface of the wood with a solvent -- acetone is ideal for this -- and allow it to dry before assembling. As teak is known as a mild sensitizer, proper breathing and eye protection should be worn during milling of when building with it.