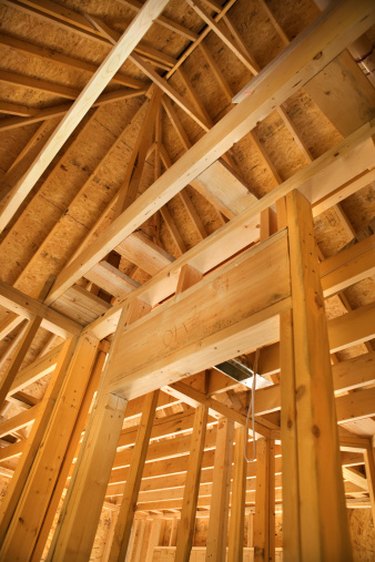 The type of wood you use for cutting rafters affects the integrity of your entire roof. When picking out a wood, you must foremost consider the strength of the wood since it is employed in the lengthy spans that run from the top of the wall to the ridge of the roof. The dry weight of the wood and the appearance of the rafters play equally important roles if building plans call for an exposed cathedral ceiling.
Douglas Fir
Kiln-dried Douglas fir wood presents the number one choice for building a rafter-styled roof in a wood frame house. This tree grows prodigiously in the Pacific Northwest. Since it is readily harvested in substantial quantities, the price is reasonable. The wood passes lightness and tensile strength tests with flying colors. Doug fir planks are also not overly knotty, so cutting compound angles is relatively easy. To leave it exposed, simply add a stain or varnish to this softwood to reveal a mostly clear grain with a slightly red tint.
Other Woods
Other softwoods such as hemlock (eastern and western), spruce, western firs or Ponderosa pine are used in some roofing situations to create a sturdy, durable and lightweight roof. These types of woods do work for hipped roofs or when constructing dormers. However, the longer the span, the stronger the wood needs to be. Long spans usually call for Douglas fir. In fact, for many building plans the architect or house designer will stipulate on the blueprint that Douglas fir be used in the construction project.
Other Firs
Douglas fir belongs to the genus Pseudotsuga, meaning "false hemlock." Many true firs grow in the Mountain West and make for excellent framing materials. These trees are classified in the Abies family and include the commercially valuable species of noble fir, California red fir and grand fir. However, these trees have a more limited range, a slower growth rate and slightly less favorable strength ratings.
Oak Rafters
In the past, many grand old buildings were constructed with oak beams and rafters. Oak construction is still possible today, especially with a post and beam style construction. The price of the oak lumber may be prohibitively high, depending on your budget. As well, only crews experienced in the use of heavy framing members should place oak roof rafters.
---
Henri Bauholz is a professional writer covering a variety of topics, including hiking, camping, foreign travel and nature. He has written travel articles for several online publications and his travels have taken him all over the world, from Mexico to Latin America and across the Atlantic to Europe.