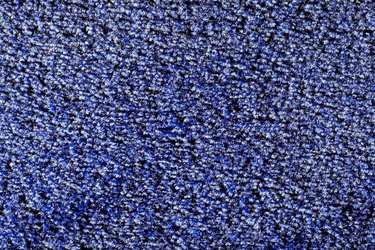 Shampoo and steam cleaning are popular choices for carpet cleaning. The drying times are about the same, however one immediately removes soil while the other deep scrubs.
Drying Time
Both methods are deep cleaning, water-based solutions which take from 12 to 24 hours to dry. Thin carpets and well ventilated areas will dry faster.
Misconceptions
Steam cleaning is an industry misnomer. Hot water extraction is more accurate. The shampoo method has a reputation for grinding dirt into the carpet; actually, the spinning of the brush lifts dirt from deep in the carpet to the surface for vacuum removal.
How Shampoo Works
The shampoo method uses a standard floor buffing machine outfitted with a solution tank and soft, nylon brush attachment. As the brush spins at a low speed of 175 rpm, the technician releases a small amount of shampoo to scrub the carpet clean. It is recommended that you vacuum before and after the process.
How Steam Cleaning Works
Steam cleaning uses a powerful vacuum and pump system, either mounted in a truck outside the work area or through a portable, electric unit. The technician uses a cleaning wand attached to a solution hose and a vacuum, waste water hose. As the technician pulls the wand toward himself, he releases cleaning solution into the carpet which is immediately extracted by the vacuum.
Shampoo Benefits
Because of its scrubbing action, the shampoo method is perfect for heavily soiled, greasy areas, such as restaurants.
Steam Benefits
Steam cleaning is ideal for wall to wall residential carpet as it does a quick, efficient job of removing soil and stains. Technicians can easily maneuver the wand and hose past furniture, rather than lugging a buffing machine through a house.