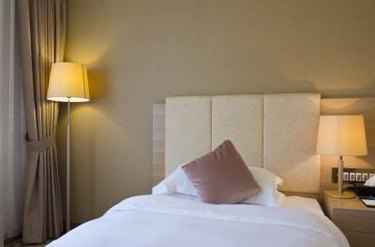 When looking for a new bed, it's important to understand the sizes and dimensions of your options. When considering a bed, even for a child, do not limit yourself to small single beds. While a bed of this size may be adequate now, a small bed may limit your future options. A growing child, for instance, may go directly from a toddler bed to a queen size that they can continue to use comfortably as they grow. Understanding bed sizes will help you make the right choice and let you determine how well a certain bed will fit in your available space.
Toddler Beds
The standard dimension for toddler beds in the United States is 27 inches wide by 52 inches long. These dimensions are roughly the same as most cribs, so that your baby's crib mattress can easily be moved from the crib to the bed when it's time. This allows you to use your baby's crib mattress and its accompanying sheet sets for a much longer period of time. It's also easy to find waterproof mattress covers and protectors in this size, which will make it easier to clean up the inevitable nighttime accidents during potty training. Toddler beds also include railings and are low to the ground to prevent falls.
Single and Twin Beds
Single and twin beds are two names for the same bed size, which causes some confusion among mattress shoppers. The term twin bed simply refers to two identical single beds. This arrangement is common in hotel rooms and vacation homes. The two terms are often used interchangeably in the United States, even though they have slightly different meanings. The standard dimension for a single bed is 39 inches wide and 75 inches long.
Full Beds
Meant to sleep two, full beds are 54 inches wide and 75 inches long. Sometimes referred to as double beds, these beds are ideal for married couples as well as for growing teenagers who may need more wiggle room than a single bed offers.
Queen Beds
Some couples find that, although they are meant for two, full beds can feel a bit cramped. Tall people, too, sometimes struggle with the short length of a full mattress. Both the cramped and the tall often turn to queen beds, which measure in at 60 inches wide and 80 inches long. For even more room, opt for an Olympic queen (66 inches by 80 inches) or a California queen (60 inches by 84 inches). Be aware, however, that it can be difficult to find bed linens for both Olympic and California queens. Some queen beds are split to make moving them easier.
King Beds
King beds are made for those who want room to move. These spacious giants are 76 inches wide and 80 inches long. This makes them perfect for large people or thos who need wiggle room. The California king is 72 inches wide and 84 inches long, making it the same size as two single beds pushed together.
Other Bed sizes
While most mattresses come in standard sizes, you may come across some odd sizes. One such mattress is the 3/4 mattress. Typically 48 inches wide and 75 inches long, these mattresses are sometimes found in campers and antique beds. Extended mattresses are also available for people who need a bit more length but don't want a wider mattress. Extended beds are available for single and full beds, and both are 80 inches long. Those who desire the width of a queen but don't have room for a long bed, a European king may be the perfect solution at 60 by 75 inches.