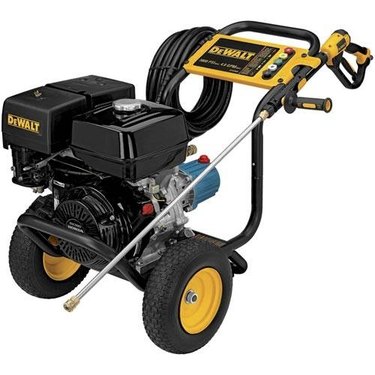 Changing the oil in your DeWalt pressure washer engine is just as important as changing the oil in your vehicle. It may not have to be done as often, but it is a critical maintenance requirement. It is also important to change the oil in the pressure washer pump. Without the pump, there is no pressure washer, and you are out of luck. Check the oil levels in both the engine and the pump before each use, and top off the oil as needed. For new pressure washers, the oil should be changed after the first month, or 20 hours, of use (the break-in period), then every 6 months, or 100 hours of use, after that.
Step 1
Start the engine and allow it to warm up so the oil will flow out more easily.
Step 2
Remove the oil filler cap and drain plug. The drain plug is located at the base of the engine block. The oil filler cap must be removed to reduce vacuum caused by the oil flowing out of the drain.
Step 3
Replace the drain plug when the oil reservoir is empty. Wipe away any residual oil from the engine and the pressure washer.
Step 4
Fill the oil reservoir with 1.2 U.S. quarts of SAE 10W40 engine oil for the widest operating temperature range.
Step 5
Replace the oil plug/dipstick after filling.
Step 6
Loosen the pump oil plug. Place an oil catch pan under the pump oil drain.
Step 7
Take out the pump drain plug and allow the oil to drain.
Step 8
Replace the drain plug, and be sure it is tightened securely.
Step 9
Remove the pump oil plug/dipstick and fill the pump oil reservoir with 14 oz. of DP70 pump oil or SAE 30W nondetergent oil. The oil level should reach the dot in the middle of the glass window in the pump housing.
Step 10
Replace the pump oil plug/dipstick.