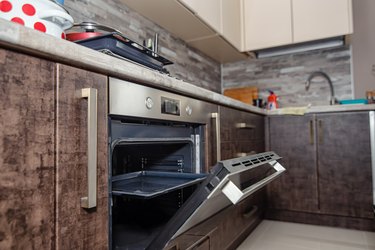 Most ovens have a self-cleaning option, but there's nothing comparable to physically cleaning an oven yourself. Whether your oven is caked with grease after a marathon cooking session or you need to spot clean some areas, you'll love the results of cleaning your oven with baking soda and vinegar.
There are many commercial products on the market, but the most efficient and easiest way to clean an oven is with baking soda. One of the major reasons baking soda is such a popular product is that it doesn't have a long list of harsh chemicals that will irritate your respiratory system or skin. Although there are some great commercial oven cleaners available, you want to be careful with the products you're introducing to yourself, your family and the appliances that are cooking your food.
Cleaning Ovens With Baking Soda
Cleaning an oven with baking soda is a surefire way to get your oven clean because, according to Arm & Hammer, baking soda is alkaline and oven grease is usually acidic. When you use baking soda to clean an oven, the baking soda neutralizes the acid in the grease and breaks it down. When the grease is broken down, you'll then be able to wipe it up easily. That's why baking soda is revered as one of the best oven cleaners for baked-on grease.
Before you start cleaning your oven with baking soda, it's essential to know that you don't have to turn on your oven and it shouldn't take that long for the baking soda to break down the grease. To clean your oven with baking soda, you'll need 1/2 cup of baking soda and 3 tablespoons of water. Combine them in a bowl to make a paste. The paste shouldn't be runny but rather have a pancake batter consistency.
After you make the paste, remove the racks from your oven and use a rubber spatula or your hands to apply the mixture to the greasy parts. You can put the mixture on metal or glass; just don't put it on any heating elements. Let the paste sit for about 15 to 20 minutes and wipe up the grease. Then wipe the inside of the oven with a wet paper towel or a 3-to-1 mixture of water and distilled vinegar.
Although cleaning an oven with baking soda does get up the majority of the grease, cleaning ovens with bicarb and vinegar is another option. You'll still use baking soda, but distilled white vinegar helps make sure that the baking soda and grease are all gone. When using the 3-to-1 white vinegar solution, you'll know if the baking soda isn't completely gone from the oven because the vinegar will cause the leftover baking soda to bubble.
According to Better Bond Cleaning, you should also clean your oven racks, but you don't want to clean them with baking soda or vinegar. You can wash your detached racks with warm, soapy water. This will easily remove any grease or debris from your oven racks.