Things You'll Need
Long rubber gloves

Dishwashing liquid

Newspapers

Paper towels

Dish cloths

Sponge

Bucket or large bowl

Trash bag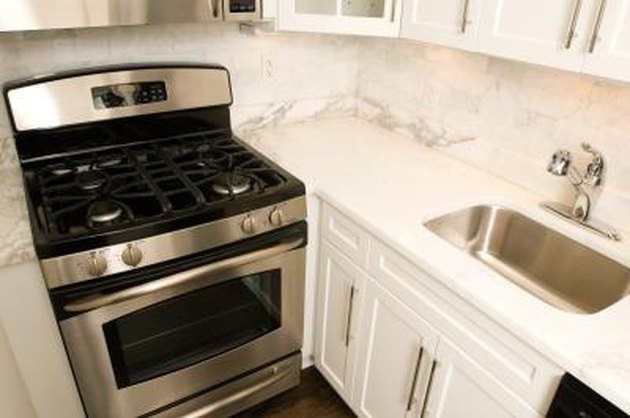 Cleaning the oven is often overlooked, not just because you can hide the stains behind a closed oven door. It's usually a time-consuming, messy and difficult task. You don't have to clean your oven in a day. By getting started the night before, you'll save yourself time and aggravation. Thanks to white vinegar and baking soda, you won't need to use harsh chemicals. They are environmentally friendly, remove hardened stains and eliminate germs and odors.
Step 1
Fill your sink with extremely hot water. Add 1/2 cup of white vinegar and a few squirts of dishwashing liquid to it.
Step 2
Remove oven racks and all other items, such as pots and pans, from your oven.
Step 3
Submerge oven racks in the hot water and let them sit overnight or for several hours.
Step 4
Place your cleaning supplies in a central location for easy access.
Step 5
Layer the floor around your oven with old newspapers to catch any mess or spills as you clean.
Step 6
Spray the oven evenly with hot water and sprinkle baking soda throughout.
Step 7
Close the oven door and let the cleaner sit for two to three hours to loosen hardened foods.
Step 8
Add hot water to a large bowl when stains are loosened.
Step 9
Put on rubber gloves. Spray or sprinkle white vinegar generously throughout the oven.
Step 10
Wipe away oil and food stains with newspapers and toss them in the trash bag. Repeat this step until large stains are removed.
Step 11
Dip a clean dish cloth into the bowl of hot water and squeeze out excess water.
Step 12
Wipe the remaining stains with the dish cloth until the oven is clean.
Step 13
Add white vinegar generously to paper towels. Wipe the oven with the paper towels to keep the oven smelling fresh and toss them into the trash bag.
Step 14
Scrub the oven racks that are soaking in your sink and remove food stains with a sponge.
Step 15
Rinse off the racks and dry them with paper towels or a dish cloth. Place the racks back into the oven.
Step 16
Gather the newspapers on the floor, rolling them inward to keep trash inside. Put the soiled newspapers into the trash bag.
---
Foye Robinson is a freelance writer and Web designer with Precision Web Crafting. She shares her love for family/relationships, fitness and Web design in her writing. Robinson holds a Bachelor of Science degree from Webster University and also writes miscellaneous articles and novels.