Things You'll Need
Painter's tape

Chip brush

Latex paint

Foam paint roller
Tip
Make a homemade cleaning solution for the baseboard by mixing 1/4 cup of ammonia into 1 gallon of warm water. Dampen a sponge in this mixture and clean your baseboard paneling. Follow with a sponge dampened in clean water to rinse away the ammonia.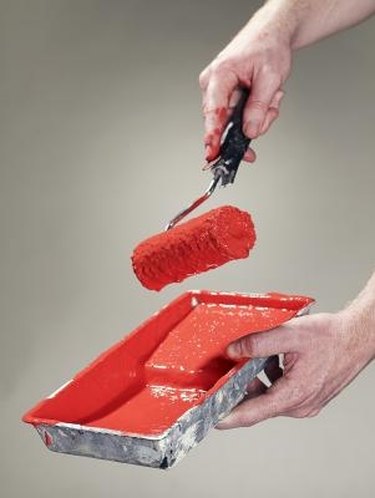 Beadboard paneling is a decorative wall covering featuring a tongue and groove pattern. This textured pattern adds visual interest but complicates the process of painting the paneling. A paint roller only applies paint to the surface of the beadboard, leaving the grooves unpainted, which results in a streaked effect. Care must be taken to paint the interior of these grooves and give the beadboard paneling a uniform coat of paint. If you are installing new paneling, complete the installation process before you begin painting.
Step 1
Clean and dry the beadboard paneling before you begin painting to remove any dirt or grease, which may prevent the paint from properly adhering to the paneling.
Step 2
Apply painter's tape to the edge of the beadboard paneling's trim if you wish to paint the trim a different color. Skip this step if you are painting the trim the same color as the paneling.
Step 3
Paint the grooves in a 2-foot wide section of the beadboard paneling with a 2- to 3-inch chip brush and interior latex paint. Move the brush up and down to paint vertical grooves or back and forth to paint horizontal grooves.
Step 4
Apply the same latex paint to the entire surface of the same 2-foot-wide section of the beadboard paneling with a foam paint roller. Paint the trim at this time if you did not cover it with tape.
Step 5
Continue to paint all of the beadboard paneling in sections by first painting the grooves with a brush, then painting the surface with a roller.
Step 6
Apply a second coat of paint using only a foam paint roller when the first coat is dry.
Step 7
Peel away the tape when the second coat of paint is dry.
Step 8
Apply painter's tape directly above and below the unpainted trim.
Step 9
Paint the trim with a foam paint roller. Allow the paint to dry and apply a second coat of paint to the trim.
Step 10
Peel away the painter's tape when the trim paint is dry.
---
Kittie McCoy has been a freelance writer since 2008. She is also a part-time personal trainer and licensed entertainer in Las Vegas. She enjoys sharing her love of physical fitness and experience in the entertainment industry via her writing.