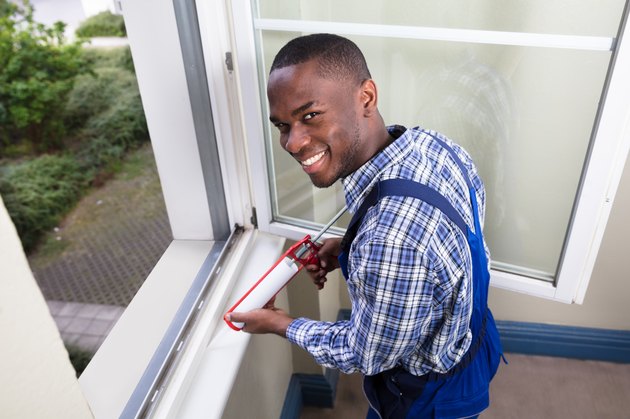 credit:
AndreyPopov/iStock/GettyImages
Caulking is a fact of life in the world of home improvement. You need caulk to— among other things—to seal the bathtub and sink, to cover the gap between the wall and baseboard or door and window casing, and to weatherproof windows. Caulking isn't an onerous activity, but it can get tiring if you have to do a lot of it. A high-tech caulking gun can make the job less tiring, and it can also help you get better results, but you might not need one of this complexity. Many professional painters and tradespeople rely on their manual caulk guns to do great work. Budget constraints may force you to settle for an inexpensive model, but even so, you should insist on a few basic features. If you're in the mood to spend money, you'll probably want to add a battery-powered gun to your list of options.
What Does a Caulk Gun Do?
credit:
yunava1/iStock/GettyImages
A caulk gun has a very specific purpose. It's designed to hold a standard tube of caulk and to lay a bead of the material in an unbroken line. The tube fits into the caulk body and a plunger advances from the back, forcing the material through the tapered nozzle. Steady pressure has to be maintained on the trigger to keep the material coming. If you have a manual tool, you have to supply the pressure with your hand, but if you have an automatic tool, the pressure is supplied by battery power or compressed air. Whether you're considering a manual or automated gun, you should look for two important features: a way to release pressure and a leak-proof plunger.
Without a way to release pressure, caulk continues to flow after you release the trigger, and you're guaranteed to get the sticky material in places you don't want it to be. Manual guns often have a pressure release trigger, but these are unreliable on the least expensive models. Some manual tools have notched plunger arms that you can easily rotate to release pressure. The best manual guns release pressure automatically when you release the trigger. This is also true for most automated guns.
credit:
mokee81/iStock/GettyImages
When using highly viscous caulk, the plunger has to apply strong pressure, and that can force some of the material to ooze from the bottom of the tube. The plunger on your caulk gun should be engineered to seal this material inside the tube while still being able to move freely. Not all plungers can do this.
A manual caulk gun shouldn't set you back any more than about $20. You may be able to find one at a dollar store, but be wary before buying one of these. It probably won't be able to handle anything more viscous than latex painter's caulk. Some manual tools have notched plunger arms. These increase thrust on the caulk and require less effort to operate.. Other features to look for than will make your life easier include:
A built-in seal punch for piercing the seal inside the caulk tube

A cutter blade for slicing off the plastic tip of caulk tubes

A ladder hook that allows you to secure the gun from a ladder rung while working

Pneumatic and Battery-Powered Models
credit:
Kenny10/iStock/GettyImages
Pneumatic caulking guns attach to your air compressor via a quick-connect air hose. The pneumatic action definitely decreases the effort needed for caulking, and with an average price of $45 to $100, these tools aren't that expensive. However, they are impractical for most homeowners. For one thing, you need a compressor to use one, and for another, the air hose gets in the way. These guns are designed primarily for auto mechanics, machinists and other tradespeople.
The best option for a homeowner looking for an easy way to caulk is one of the many battery-powered tools on the market. Depending on brand, you'll pay between $100 and $300 for a complete set that includes the battery. If you already own a battery and charger, you can save significantly by buying a gun that is compatible with them. The main disadvantage with battery-powered guns is the extra weight of the battery—you may get tired holding one of these above your head while standing on a ladder.