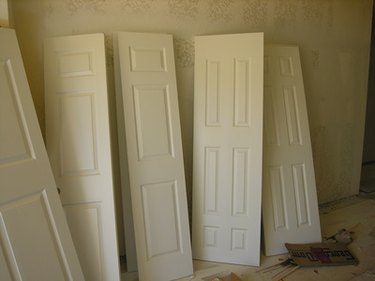 French doors designed for use in standard homes can be installed in mobile and manufactured homes. They can be placed in the same opening as an existing sliding glass door or in a completely new location. Prehung doors come with the frame and trim already attached at the factory, making the job easier. The doors can be placed in interior or exterior walls.
Step 1
Measure the height and width of the framing of the prehung door. The opening in the wall needs to be 1 to 2 inches larger than the door frame. A typical door frame measures 48 inches wide and 80 inches high. The rough opening for this example should be 50-1/2 inches wide by 82-1/2 inches high. If the floor and wall studs are level, the opening can be smaller.
Step 2
Determine the location of the door. Turn off power to any electrical circuits in the opening. Remove all studs, drywall, electrical wires or outlets from the opening. Any wires that need to be spliced together must have the splice placed inside an accessible, properly mounted electrical outlet. If you have the know-how, place an electrical outlet next to the door as a splice location. If not, have a qualified electrician do the electrical work for you.
Step 3
Place 2-by-4 studs on the left, right and top of the opening. Use existing studs in the wall if available.
Step 4
Remove the doors from the frame and the hinges. Remove the hinge pins to leave half the hinges on the frame and half on the doors. Do not remove the trim from the frame.
Step 5
Place the prehung door frame inside the rough opening. Place wood shims to adjust the door frame up or down and left or right to make the door level. Use two or more shims at each location to ensure the area between the door frame and the studs or floor are solidly filled with the shim material. Nail the frame in place through the frame at the shim locations. Nail it securely at the hinge locations by placing one or two nails above and below each hinge.
Step 6
Mount the door on the hinges. Open and shut it while looking for any place it may be binding or too loose. The crack around the door between the door edge and the frame should be the same width all the way around. Make adjustments with shims, pry bar, hammer and nails as needed. Place trim around the interior of the door frame.