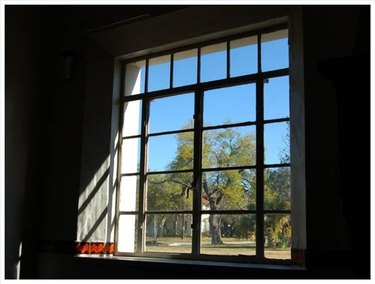 During the 1970's and 80's, sliding glass doors were commonly used in many homes. Today however, they make a house look dated and old-fashioned. One of the quickest and most cost-effective ways of updating your home is to replace old glass sliders with modern French doors. Often used on patios, porches, and for entry into the backyard, French doors are a great way to bring natural sunlight into your home. Made of wood with glass panels, they give the home a light and airy feel. Fortunately, these doors are surprisingly easy to install, making this a project the average homeowner can complete in just a few hours.
Step 1
Remove trim pieces around the door frame by prying them out with a hammer. Do this carefully if you'd like to reuse them on your new door, or dispose of them if you plan to purchase new trim.
Step 2
Use your hammer to remove the nails holding the sliding door unit in place. There will likely be several in each jamb, but check for nails in the head of the frame as well.
Step 3
Dispose of the sliding door unit carefully. If it is in good condition, consider donating it to a construction salvage facility for reuse.
Step 4
Measure the size of the rough opening for your new door. This is the dimension from stud to stud, width-wise, and from the finished floor to the top of the opening, length-wise.
Step 5
Purchase a set of pre-hung French doors using the measurements you took in Step 4. Your door, including the frame, should be roughly 1/4" smaller on each side than the size of the rough opening. Pre-hung French doors are available at most home improvement stores.
Step 6
Slide the French doors into the opening, bottom first, making sure it is centered within the space. The doors should be placed so that they will swing outside of the home once installed.
Step 7
Use your level to ensure the unit is even and plumb. If it's not, place wooden shims between the jambs and the framing members to level it out.
Step 8
Secure the unit in place by fastening three nails into each jamb. Make sure to also nail any shims you used into the jambs or the frame.
Step 9
Place insulation into the cracks along either jamb. Batt insulation is the easiest to install, and should fill the space without being forced.
Step 10
Install trim kits around the frame to cover the insulation and complete the project.