The tile is in stellar condition. There are no cracks spidering through the ceramic tiles, unseemly seams popping up along the surface of the backsplash or chunks of grout falling from the wall. It's perfect. But the color scheme is outdated or clashes with new cabinets or other hardware. Rather than take the time and energy – and expense – to remove the offending backsplash, you can prime and paint it in an afternoon and change the entire look and feel of the space.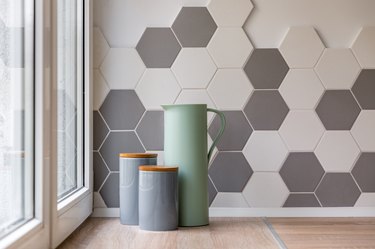 Prep Work
Remove all dirt and debris from the backsplash that tends to collect over time. In a bathroom, make sure that all soap scum residue is completely abolished from the surface before starting. In a kitchen, you may need to use a degreaser to get to the slick surface of the ceramic tile. Once clean, remove all signs of cleaner as you want a pristine surface. Allow the tiles to dry thoroughly before the next step.
The gloss on the ceramic tile makes it difficult for paint to adhere to the surface. A 180 to 220 synthetic grit sandpaper will get the gloss off without damaging the existing tile, such as silicon carbide or aluminum oxide. Use an orbital sander to get the job done quickly and apply even pressure along the backsplash. Wipe down the surface with a damp cloth or sponge to remove all the fine dust created by the orbital sander. Make sure it has a good amount of time to dry before moving on to the best part, primer and paint.
Paint Options
While the prep work was a great primer to get the ceramic tile to accept the new paint, that process just scratched the surface. You need to apply a special primer for painting tile and let it dry before rolling on the paint of your choice. Apply at least one or two coats of a primer that is specially formulated to bond with ceramic tile, such as Extreme Bond Bonding Primer or XIM 400. Acrylic latex wall paint is fine to use, but make sure you apply two coats.
Rust-Oleum Tub & Tile and other types of epoxy paint, which is specifically made for tile and other surfaces that can be difficult to paint, is a better choice. The colors are more limited for epoxy paint, but the finish may be more durable in the long run.
Safety Tips & Tricks
Ceramic tile backsplashes are a good candidate for paint. If you follow the directions on the paint and primer cans and give each process the proper time to dry thoroughly, then the newly painted backsplash can last for a good number of years. A floor, countertop or other hard surface that gets a lot of traffic and use is not a good candidate for a new paint job. Wear safety glasses and a suitable face mask made for painting, particularly during the sanding and priming parts of the project as fine bits of tile and dust can cause eye and breathing issues.
---
Kimberley McGee is an award-winning journalist with 20+ years of experience writing for a variety of clients, including The New York Times, Las Vegas Review-Journal Home section and other national publications. As a professional writer she has researched, interviewed sources and written about home improvement, interior design and related business trends. She earned a B.A. in Journalism from the University of Nevada, Las Vegas. Her full bio and clips can be viewed at www.vegaswriter.com.