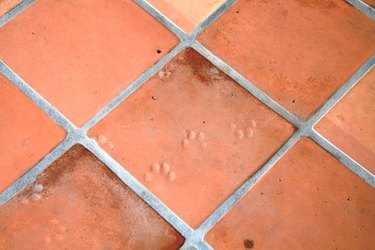 Outdoor tile must be strong and durable to survive the elements. Because of exposure to the elements, though, outdoor tile is subject to heavy staining that will mar its appearance and change its color. To prevent this, it is necessary to seal outdoor tiles so they don't absorb moisture. For non-porous tile, administering the stain after completing the installation process is fine, while porous tiles require a dual stain application during and after the installation. Once completed you can enjoy your tiles worry-free, as water washes right off without staining.
Things You'll Need
Paintbrush

Grout

Sponge

Lint-free cloth

Broom
Step 1: Seal the Tile Surface
Brush a layer of the tile and grout sealer formulated for your porous tile type over the surface of the tile. Cover the surface with an even layer of outdoor tile sealer. Do not allow the sealant to pool or collect into tile depressions, and do not allow the sealant to drip over the sides of the tile. Grout will not adhere well to the sealed surface.
Step 2: Allow Sealant to Dry
Remove excess sealant with the brush and spread it around surface. Allow the sealant to dry overnight. The sealant will protect porous tiles' coloring, which otherwise might be affected by the grouting application.
Step 3: Grout the Tile
Place grout onto the tile surface with a grout float and push it into the joints between porous tiles. Press the grout firmly into the joints with the float, filling the joints completely. Within 15 minutes, wipe excess grout from the surface with a water-dampened sponge.
Step 4: Remove Grout Haze
Wait two hours and wipe the surface with a clean, damp cloth remove grout residue. Rinse the cloth with clean water frequently as you work to avoid wiping with a dirty cloth. Allow the grout to dry for 48 hours.
Step 5: Seal Tile and Grout
Sweep the tiles with a broom to remove any dirt or debris. Brush a thin layer of tile and grout sealer over the tiles and grout. Use a penetrating sealer that will soak into the pores of the tile and grout, sealing them and creating a protective waterproof barrier. Cover the tiles completely, creating a visible layer of sealer. Wait 24 hours for the sealer to cure.
Step 6: Add Second Coat of Sealer
Apply another layer of exterior grout sealer for further protection after the waiting period, following the same process used with the first. Wait an additional 24 hours before using the tiled surface.
Tip
Test the tiles before placement to determine if they're porous or non-porous. Place a couple of drops of water onto the corner of a tile and watch for beading. If the water beads, the tile is non-porous and will require only one sealing application. If the water absorbs into the surface of the tile, it is porous and will require sealing before grouting during the tile application.