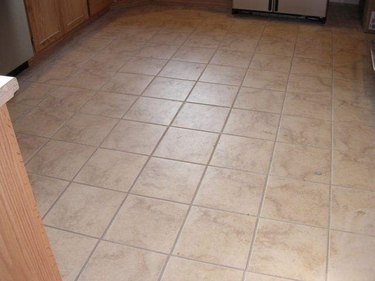 Ceramic tile can begin to look faded and worn after a few years. Replacing this type of tile is a daunting project, and hiring a professional contractor to do it can cost a small fortune. You can resurface the tile yourself, however, with products available at your local home improvement center.
Step 1
Remove all caulking or trim from the edge of the floor using a screwdriver. Set the trim to the side to reuse.
Step 2
Clean the ceramic tile with a mixture of 1/4 cup washing soda, or bicarbonate soda, with 1 gal. of warm water. Use a sponge mop, then allow 20 minutes for the floor to air-dry.
Step 3
Etch the surface of the tile to make it receptive to the new surface treatment. Use a light acid mixture and a course scratch pad, such as a Brillo-type product. Wear a respirator mask, safety glasses and gloves when using these chemicals. Ventilate the area as much as possible.
Step 4
Repair tiles that are cracked or chipped--a waterproof filling applied with a putty knife works best. Follow drying instructions on the filling compound label. Bobvila.com provides excellent tips for repairing ceramic tile.
Step 5
Tape off the areas you want to protect from the resurfacing spray with masking tape. Remove the edging plates for doorways and set them aside.
Step 6
Apply the bonding agent primer using a roller or paint sprayer. The primer will help bond the finish surface coat to the ceramic tile.
Step 7
Spray the finish surface coat on the tiles in three thin layers. Allow 72 hours for the surface to dry and harden. Replace all door-edging plates and trim, then recaulk the floor edges.