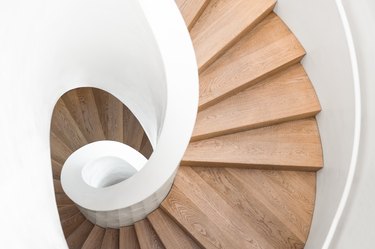 You've decided to add vinyl flooring to your home, but you may not realize that you should extend the vinyl up to the stairs. Most homeowners like to update their landings because it gives the house a fresh look. Homeowners also want to apply vinyl plank on stairs because it's easy to install and clean. Before you install your vinyl flooring, you need to make sure you're considering some essential things.
Type of Vinyl
Vinyl comes in planks, tiles and sheets, and each of these floorings has a different installation process. Each kind could have different tongues and groves, while some don't. You have to know what type of look you want on your stairs before you pick the material you're going to install.
It really depends on your own preference, but some homeowners like vinyl tiles because they're smaller and more straightforward to put down. Others like sheet flooring if you need to wrap the vinyl around the edge of the stairs. Before you decide on your flooring, figure out the look you're going for in your home.
If you prefer one look of vinyl over another, such as vinyl click flooring on stairs, you can purchase stair treads or pieces that go over the edge that's made of vinyl. You don't have to cover the front of the stairs. You can just use the treads.
Preparation for Vinyl Flooring
Measuring and preplanning your vinyl flooring layout on the stairs is essential because you don't want to end up with weird slivers of tile. By measuring and planning out the look of your vinyl flooring, you'll be able to place your tiles accurately once you start the job. Don't forget to factor treads into the layout. Start with those first and center them on the stairs. Sometimes you may need to cut more to use on the rest of the stairs.
Vinyl Plank on Stairs
After preplanning the design, you must prepare your space. These may seem like the same thing, but they're slightly different. You have to make sure that the subfloor or underlayment is perfectly leveled.
If you don't perfectly level your subfloor, then the vinyl flooring you lay on top will have bumps. Use caulking to seal joints, and cover screws. These screws sit beneath the surface. Debris and dust can also cause bumps, and you don't want that underneath your vinyl flooring.
Vinyl Installation Process
A lot of vinyl products come in a peel and stick format. The adhesive is already on the back, so all you have to do is peel the protective sheet away and lay down the flooring. Peel and stick vinyl is preferred by many because it's quick, clean and easy.
Another option is glue-down vinyl. Glue-down vinyl products don't have an adhesive back, so you have to put glue on the substrate (underlayer) first. Using a trowel, spread some glue down. You want the ground layer to have an even layer of glue with no air bubbles.
If you're using sheet vinyl, you need to start on the inside of the stair's L shape. This is the area where the vertical and horizontal pieces meet. After you do this, work outward. If you're using tile, then you can start at the top.
Vinyl flooring on stairs pros and cons depends on what type of decorator you are. If you like the convenience of hiring someone, you can. But if you like executing your own projects, you can do it yourself.