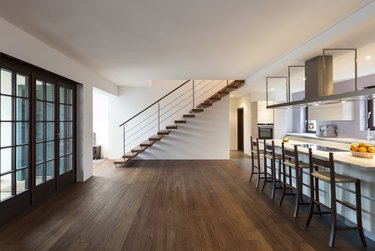 Most people who are interested in putting wood flooring on stairs are concerned about the cost. This is understandable, considering that so many carpeted stairs are nothing but plywood underneath. Adding wood to the staircase sounds like a daunting task, but with a little bit of time and effort, even the most novice do-it-yourself-er can add engineered wood to their stairs.
Wood Flooring and Stairs
Hardwood flooring for stairs is a timeless, classic look that goes well with virtually any decor. Regardless of whether or not you're someone who switches up the look of their home often, hardwood flooring for stairs will seamlessly blend into any style of interior you're interested in cultivating.
Many stairs that are covered with carpet become difficult to clean, and carpeted looks, while soft underfoot, can begin to look dated over time. Making the change from carpeted stairs to hardwood stairs can seem daunting and stressful, but it is a relatively easy task that can be accomplished by homeowners without the need for outsourcing the work.
Installing wood flooring is easy, in part, because many companies have begun to manufacture prefabricated wood stair risers and steps. This means that all you have to do is order these steps, and then install them on your own. You may choose to paint or stain them a particular color, but the installation process itself is relatively simple and extremely rewarding.
Hardwood Stairs Cost
What can make hardwood flooring for stairs extremely pricey is having a custom staircase built out of a hardwood. Hardwood stairs cost quite a bit more money than the kind of engineered wood that you can get from a large chain home improvement store or a distributor online. If you are installing engineered hardwood on your existing stairs, you are already eliminating a significant portion of the cost of the project.
Engineered hardwood is often sold prefabricated into risers and stairs, so you need only to purchase the premade pieces in the color and dimensions you want. Once you've received them, you need to begin the process of preparing your existing staircase so you can attach the risers and the treads.
If your stairs are carpeted, remove the carpeting, as well as any tack strips and remaining staples. Use heavy-duty gloves for this portion of your project, as staples and tack strips can puncture the skin. Once you've cleared the stairs of any debris, vacuum the steps to get any dirt, dust or remaining staples cleared off. Then, go over each stairs tread and riser with a tack cloth to remove any remaining dust or dirt particles.
Hardwood Stairs Installation
Once the stairs are cleared and ready for the installation, make sure that the risers and treads are cut to the correct heights. If they have not come pre-cut to your specifications, use a circular saw to get them to the right dimensions. Once they are at the correct height, applying flooring glue to the back of the risers and adhere them in place. Finish the installation by securing the risers to the step with finishing nails.
Many prefabricated steps come with a tool that helps you snap the tread of the step in place over the risers, whereas others have a bullnose that is installed separately. Depending on the manufacturer's instructions, you may need to install the tread first, then the riser.
Once you've installed the treads and risers with wood glue, complete the installation with finishing nails. Allow the glue on the stairs to set for at least 24 hours before applying pressure.