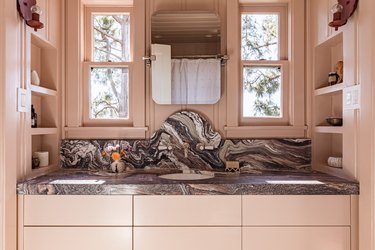 When my wife and I bought our house in January, we had one major project we knew we wanted to take on ASAP: painting — and painting ‌every single inch‌ at that. While we hired painters for the downstairs since it was a bigger overhaul, we wanted to use the upstairs as a space to experiment and learn. When it came time to paint the guest bedroom, we found a lovely, cozy shade of gray — Sleepy Kitten by Valspar — and the more we painted, the more we knew we couldn't get enough of it.
We brainstormed, I pulled up paint trends on TikTok and Instagram, and then I pitched an idea: What if we took a stab at painting the trim the same color as the walls? We were into it, but our moms panicked, asking, "Won't it be too much? Too trendy? Too dark?"
We followed our instinct, and the result was perfection: a super-comfy, nooklike enclosure. Now, it's our favorite room.
Should You Paint Trim the Same Color as Walls? Experts Answer
Can you paint trim the same color as your walls? Of course! You can do anything your heart desires to make your space feel like it's truly yours. But should you?
Painting trim the same color as walls, otherwise known as color drenching, isn't an entirely new phenomenon, but it is an increasingly trending one. "I've seen a huge increase in this color-drenching style of painting walls and trim and even ceilings all the same color," furniture refinisher and home decorator Jess Godsey of Oak | Grain Refinishing, tells Hunker.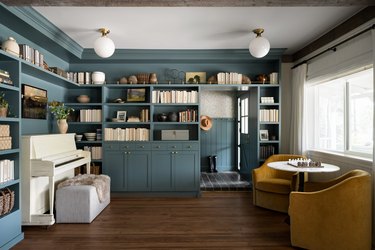 "I'm totally here for it!" Godsey says. "I used this technique in our guest bedroom (sparing the ceiling … for now), and I'm shocked at how much bigger and [more] open the room looks."
Nicole Gibbons, founder and CEO of paint brand Clare, knows the power of paint better than most. "Most people aren't that adventurous when it comes to paint colors," she tells Hunker. "It takes a little more boldness and courage for the average person who's not an interior designer to go monochrome with a color on both their walls and trim."
We know that certain paint colors can increase your home value, but painting your trim the same color as the walls is less about resale value and more about adding unique, eye-catching elements to your space, whether you're hoping to sell or simply build a space that feels like you.
Regardless of controversy (or how it might make your mother-in-law panic), Gibbons says to do it anyway: "I love when people can go outside of the box and think of interesting ways to use paint."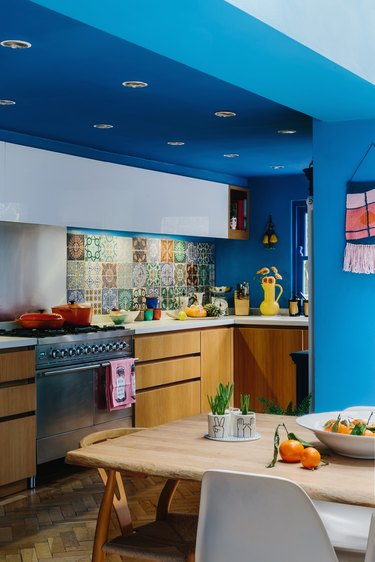 Reasons You Should Paint Trim the Same Color as Your Walls
The benefits are threefold, says Gibbons: "[It] feels a little more elevated, richer, and more interesting [than white trim]."
Godsey agrees: "Imagine wearing white socks with black pants and black shoes … now switch to black socks. Ahhh yes! That's kind of how I think of the trim matching the walls — it creates a seamless and elongating look."
As an added bonus, it's a great way to shake up a builder-grade home. "It elevates the space by making even the cheapest builder-grade trim look way more luxurious but in an understated way," Godsey adds. "Instead of the trim demanding the eyes' attention, it allows us to take in the whole room without being interrupted by bright white trim."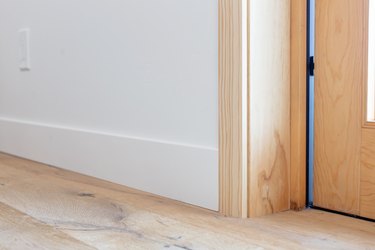 Also, you won't really have to worry about whether to paint the trim or walls first since you will be making both the same color. However, if you decide to use a different sheen on the walls or trim, you might want to remove the trim, paint it, and then reinstall it once your walls are coated.
Why You Should Paint Your Trim the Same Color as Your Walls
It feels more elevated and interesting.
It allows you to customize your home, making it look more luxurious.
Rather than focusing on bright white trim, painting the entire room the same color doesn't demand the eyes' attention.
You won't have to worry about whether to paint the trim or walls first.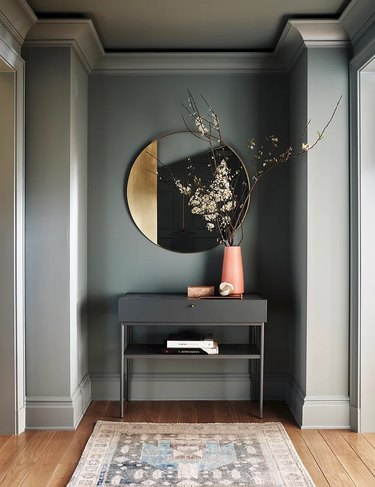 Cons of Painting Trim the Same Color as Walls
What are a few cons for painting your trim the same color as your walls? Well, first, there's your nerves. While paint might seem like a silly thing to get nervous about, it's a big commitment to drench a space in a single color.
Plus, if you change your mind, prepare to put in some extra elbow grease. "I feel like the only con to this trend would be some extra painting work in the event you ever wanted white trim again," Godsey explains. "Especially if you went with a bold color, you might need an extra coat of primer and paint in the future."
The Best Colors for Painting Trim the Same Color as Walls
One thing to consider is that you might want to really think through the color before you choose it. You're going to see it at a high volume, Gibbons says, so leaning into a blue or a green "tends to be more palatable for the average person — or another color you feel comfortable living with."
And it just so happens that Godsey reached for a beautiful blue-green for her own space, selecting Benjamin Moore's Iced Marble. The result? A comfy space that feels totally chic.
Best Colors for Painting Trim the Same Color as Walls
Blue
Green
A color that makes you feel comfortable and cozy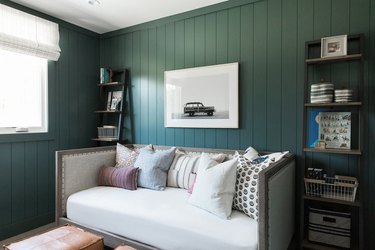 Expert Tips for Painting Trim the Same Color as Walls
"I recommend using a sheen or two glossier on the trim," Godsey says, "so your space doesn't look one-dimensional." Godsey, who used eggshell on the walls and semigloss on the trim in her own guest bedroom, notes that "the contrast is elegantly subtle."
Added perk: If you struggle with painting walls and ceilings, "cutting in will be a breeze [when your walls and trim are the same color]," Godsey advises. Note: Cutting in refers to when you have to paint the tight areas in a room, like the corners, ceiling line, or around door and window frames.
Speaking of ceilings, ready to take the next step? Add in the ceiling. "I've seen instances when people will paint walls, trim, and the ‌ceiling‌ the same color," Gibbons says. "In those instances, to fully envelop a space in color looks so rich and sophisticated."
Tip
Use a sheen or two glossier on the trim.
Add in the ceiling to fully envelop your space.