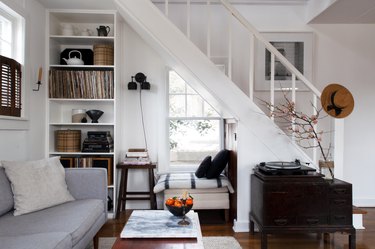 Etsy just released its annual report on 2023 design trends, and this year, we can expect people to go big on personality. Of-the-moment popular decor ranges from classic, Parisian-inspired interiors to more contemporary styles like mermaidcore, but what unites them all is that they're decidedly not minimalist.
"Above all, we're leaning into authentic, perfectly imperfect homes that feel truly our own — because at the end of the day, our living spaces are meant to be lived in," wrote Etsy trend expert Dayna Isom Johnson in the report.
Scandinavia, who? Forget the light and airy woods that have been so prevalent the past few years. In 2023, it's all about dark wood. Etsy has reported a 337% increase in searches for walnut desks and accessories, and a 24% decrease in searches for Scandinavian decor.
Master the ‌art de vivre‌ with the tasteful incorporation of vintage pieces like gilded mirrors and feminine elements like ruffled bedding into your home. Etsy reports a "119% increase in searches for wall mirrors, a 96% increase in searches for marble sinks, a 67% increase in searches for custom oil paintings, and a 44% increase in searches for ruffled duvet covers."
Mermaidcore, like many "core" movements, might not be for everyone. But if you love pastel hues, ocean-inspired design details (scalloping!), and iridescence, then this is the style for you. Some trending Etsy searches related to mermaidcore include scalloped runners, oyster shell ring dishes, mother of pearl trays, and bubble light fixtures or pendants.
If you're seeking diffused light and a lampshade with a sculptural quality, consider paper lighting. The ancient Chinese tradition of paper lanterns has evolved over the millennia, and now designers are having fun playing with shapes, patterns, and colors. Etsy reports an 85% increase in searches for hanging paper lanterns.
Instead of choosing traditional rug patterns, Etsy users are looking for colorful, contemporary statement pieces. Searches are up for handwoven rugs in general, but wavy rugs are having a particular moment — they're seeing a 49% increase in searches.
What's jewelry for the home? Think gemstone-infused hardware, suncatchers, and wall hangings, all of which have seen increased search volume on Etsy.
While traditional rugs might not be very popular at the moment, vintage patterns like toile and chintz are seeing increased searches — especially from those interested in cottagecore and grandmillenial stylings. Botanicals, in particular, are extremely "in" right now: Etsy reports a 1,041% increase in searches for embroidered botanical items.