Small-space dwellers are always on the lookout for creative ways to make their living spaces look bigger and more organized. Pieces like storage ottomans and benches are great for multipurpose use and for their ease of movement, allowing you to create extra space without taking up too much room. A recent TikTok video, however, takes the idea of space saving to new depths by showing how one home stores away an entire full-size swimming pool when not in use.
The video shows the entire process of how this home in Gloucestershire, England, incorporates the indoor pool into the house's design. At the push of a button, the floor quickly descends into the ground and fills the area with water to create a swimming pool in just minutes. The pool even features integrated stairs into the design.
The technology for this moveable pool is from a Netherlands-based company called Tieleman Pool Technology. The unique movable floor system is crafted from stainless steel and operates with a pulley/cable system powered by a water hydraulic cylinder, which can set the pool to any desired depth. When the floor is adjusted, water will flow through the thin gap between the floor and the pool wall. In about four to five minutes, the space will become a full-size swimming pool.
The base of the floor can support up to 220 pounds per square foot, so while it's strong enough to be used as a patio or other living area, don't press the button while everyone is still having lunch.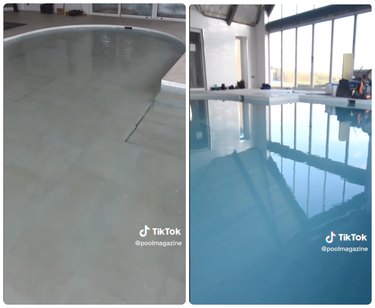 While we can only dream of one day having a pool at the press of a button, until then, we'll stick with our bed storage hacks to maximize our spaces.