A Vestaboard is one of those things that's so simple yet so hard to describe. It's defined as a "smart messaging display," but that only touches the surface of its potential. It is interactive art. It's a way to connect with people both near and far. It's a brilliant blend of the physical and digital. It's a creative outlet. And it is so damn fun. I was looking for a piece of wall art, and I got so much more. Here is everything to know from my firsthand experience with this groundbreaking piece of technology.
‌‌​(While I did receive the Vestaboard in exchange for an honest review, all of the following thoughts and opinions are my own and are not influenced by the brand in any way.)‌
While it feels pretty impossible to fully describe the Vestaboard, here is how I'd explain it in the most straightforward way. It is a messaging board composed of 132 individual characters that the brand refers to as "Bits." Each of these patented Bits includes letters, characters, and colors that flip based on the message or visual you choose to display. They make the most satisfying sound as they move through the alphabet.
You use the Vestaboard app on your phone to control what is sent to the display. You can create your own messages and images or select from premade artwork, famous song lyrics, and inspirational quotes. These can be instantly sent to the board or scheduled for a later date. Here are some examples from my board: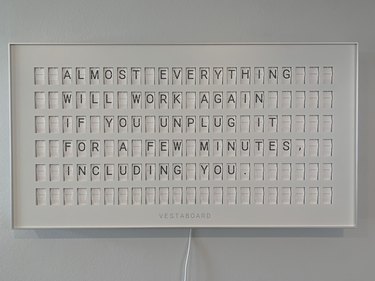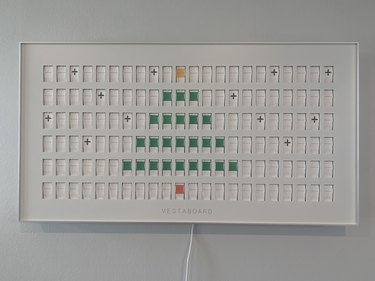 What is the Vestaboard mounting and setup like?
Installation is shockingly straightforward. You simply hang the included mount on the wall with the two included screws and then hook the board onto the mount. You'll then attach the cord to the board and put the magnetic cover over the display.
Once it is mounted, it's time to hook it up to your Wi-Fi network. The moment your board is plugged in, it will display your unique pairing code.
You'll then download the Vestaboard app and put in the code to connect the device to your internet. Once that happens, you can start inviting your friends and family via email so they can send their own special messages to your board. Our friends in Wisconsin sent this note directly to our Vestaboard in Los Angeles:
My mind was actually blown when I started using Vestaboard+. It is an entirely optional paid subscription that costs between $5 and $8 per month based on how long you sign up for it and how many boards you have. It offers a variety of channels beyond the included patterns and quotes. These channels range from practical to educational to informative to downright hilarious.
Practical channels include CNN (where the latest headlines will make their way onto your Vestaboard), Google Calendar (where your Gcal syncs with your Vestaboard), and U.S. Weather Map (where a color-coded U.S. map appears on your Vestaboard based on the temperature and conditions). Educational channels include Poetry Quotes, Learn French (where Vestaboard provides you with one new French word per day), and Human Body Fun Facts. A few other favorites are Sandwich Suggester, Autumn Artwork, Self-Care Quotes ... and the list goes on and on. There are even games like Word Scramble and Truth or Dare. Here are just a few that put a smile on my face: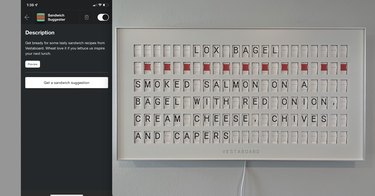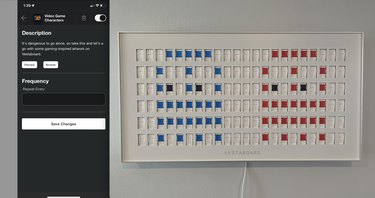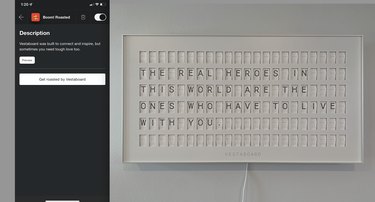 What is the limited-edition Vestaboard White?
The original Vestaboard has a black frame, but the brand recently launched a limited-edition white version. This is the one I opted for, and I love how it goes with my apartment's aesthetic. There were only 1,000 made, so you'll have to act fast if this one is your preference. It is the same price as the flagship black version.
What are the pros and cons of the Vestaboard?
Pros
The way it merges art, entertainment, and creativity
The easy setup process
The fun and user-friendly app
The uniqueness of the product
Cons
The price
The fact that Vestaboard+ isn't included
The visible cord (I am going to try to hide mine in the wall.)
Is Vestaboard worth the price?
The price is steep, to say the least, but I think about it like investing in a beautiful piece of art. If you have the means for it, it is completely worth it. It puts a smile on my face each and every day. My partner literally has to pry my phone out of my hands before bed because I have so much fun playing around with it. It's simply the best, and I am downright obsessed.