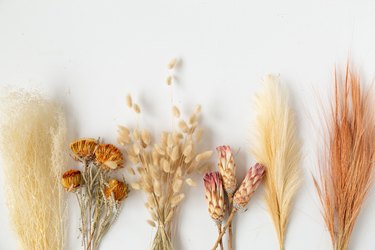 Although fresh-cut flowers are beautiful, you can't deny the appeal of dried blooms. For starters, drying flowers gives them a faded look, which is pretty and moody to boot. Dried flowers are last a long time, making them ideal for bouquets and DIY projects alike.
However, if your dried flowers are looking worse for wear, don't be so quick to toss them. Per @lhk.interiors on TikTok, it's possible to refresh them using a handheld steamer.
On TikTok, the content creators shows a stem of squished and sad dried hydrangeas. But after they steam the blooms for a few seconds, the hydrangeas instantly perk up. It appears the steam helps rehydrate the flowers just enough to regain their shape and form.
All that said, avoid steaming the flowers for too long, advises @lhk.interiors. Otherwise, the stems will become too limp and break.
As fans of dried flowers, we'll definitely be bookmarking this hack. Who knew a steamer would be so handy for home decor?
How to revive dried flowers without a steamer:
If you don't have a steamer on hand, you can still use steam refresh dried blooms. Try boiling a pot of water until it releases steam. Next, carefully hold the stems above the pot for a few seconds. This will expose the flowers to the steam, which will hopefully fluff them right up.
Other ways to care for dried flowers:
Although a steamer can breathe new life into dried flowers, it's important to keep them away from heat and light when they're on display. The same goes for moisture; never put your dried flowers in a vase of water, which can lead to a moldy situation.
You could even coat dried flowers with a clear UV-resistant aerosol spray, such as this product by Krylon. This will minimize discoloration and fading caused by sun exposure.