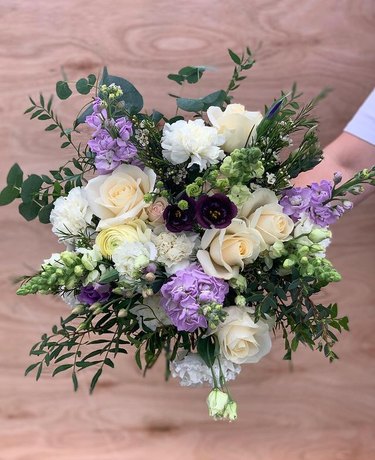 Now that spring has officially sprung, all we want is to be surrounded by blooms. We want potted plants on every surface, fresh flowers adorning our favorite vases, and social media florists giving us all the flower arrangement inspiration.
Yet, when it comes to creating actual arrangements in our homes, us non-florists could use a hack or two. That's why we're bookmarking and compiling the following flower arranging hacks for all our springtime desires.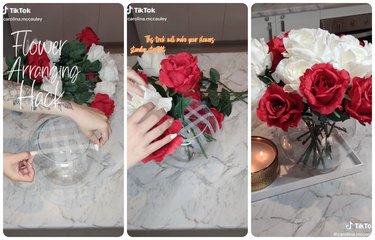 To keep your flowers standing up straight, TikTok user @carolina.mccauley suggests creating a grid over your vase using tape. For an eco-friendly alternative, you can use chicken wire or a flower frog, both of which can be reused.
2. Add fairy lights to your vase for a cozy touch.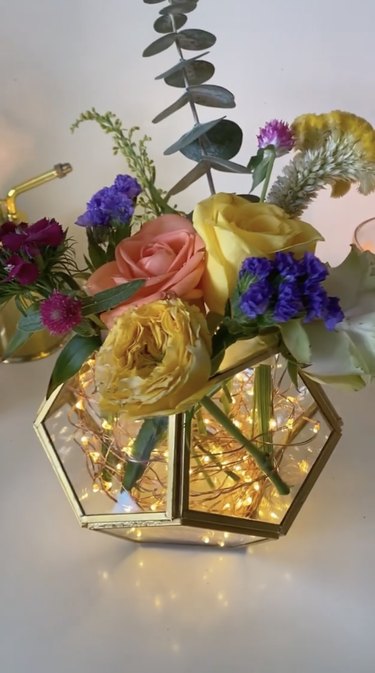 We never thought of adding fairy lights to a vase until we saw Instagram user @rohina do it. If you're looking for a unique flower arrangement idea (especially for a gift), this is it.
3. Use this twine knotting trick.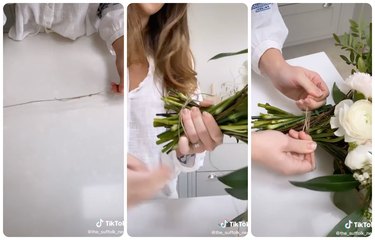 If you want to easily tie twine around a large bouquet of flowers, TikTok's @the_suffolk_nest has a handy trick for that. Just tie a loop knot in your twine, hold the loop in place with your pinky finger, and then use the rest of the twine to tie your bouquet. It's as easy as that.
4. Cut your stems at an angle.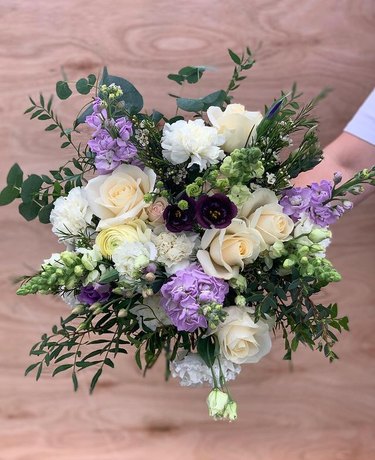 This is a classic hack, but worth noting nonetheless. Instagrammer @bloomsbycharlotte reminds us to cut our flower stems at an angle. This increases the stem's surface area, allowing the flower to absorb more water and thrive for longer.
5. Use greenery to fill in gaps.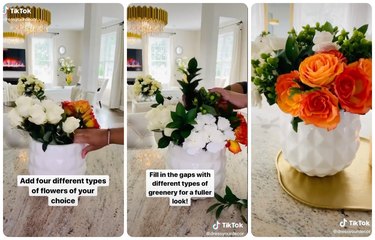 According to @dressyourdecor on TikTok, you can fill in flower arrangement gaps with greenery. She starts by using four different flower colors and then follows that up with her fill plants.
6. Place aspirin in the water.
If you want to make your flower arrangement last longer, TikTok user @brightly.eco suggests placing a crushed-up aspirin in your water. ProFlowers says this trick works because aspirin lowers the pH of the water, causing it to circulate through the flower faster and prevent wilting.
7. Trim leaves below the water line.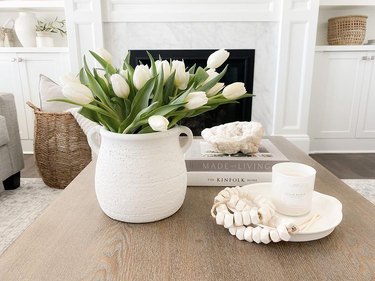 To prevent your flower's leaves from rotting in water, trim the leaves below the water line before adding them to the vase. Many thanks to @lylahamid on Instagram for this tip.
8. Place wilted hydrangeas upside down in water.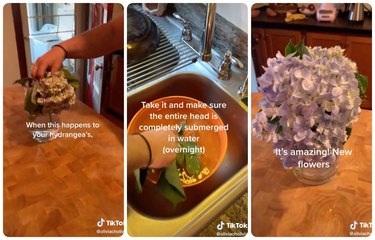 TikTok user @oliviacholivia learned a handy trick from her florist husband: Hydrangeas actually absorb water through their petals. So to revive the flowers, place them upside down in water overnight.
9. A penny can make flowers stand up straight.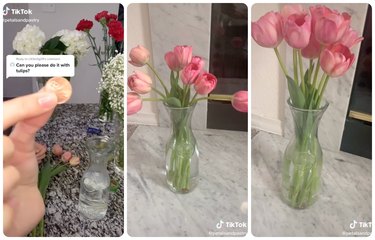 Thanks to @petalsandpastry on TikTok, we now know how to make our flower arrangements stand up straight. Just place a penny in the water! According to Well+Good, this hack works because pre-1982 pennies are made from copper, which has antimicrobial properties that perk your flowers up.