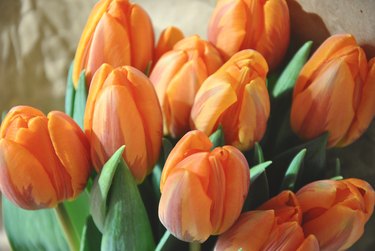 If you regularly display fresh flowers at home, you know how soothing the act can be. But if you're on a budget — or if you're looking for something different — you'll want to try a brilliant flower hack we recently found on social media.
Shared by TikTok user @thishouse5000, the trick offers an alternate way of displaying tulips. Simply bend the petals outward to expose the contrasting colors inside, which will make the tulips look like a cross between poppy and hibiscus flowers.
Of course, tulips are beautiful on their own. But this technique, called reflexing, allows you to enjoy the blooms in a different way. Not to mention, tulips are easier to find (and cheaper) than other types of flowers, so you'll be able to enjoy various looks while staying on a budget.
And get this: You can apply the same technique to roses, too. It's an excellent way to enhance the flowers' natural beauty while making them pop. Check out this YouTube video by Joseph Massie to learn how (and to see what it looks like).
Tips for reflexing flowers:
The key for successfully reflexing flowers is to use slightly aged blooms. If the flowers are too young, the petals will be tight and compact, making them more prone to breakage.
With that in mind, you'll want to wait a few days before bending the petals outward. This will give them a chance to soften up.
When it's time to bend the petals, be gentle. It's also recommended to begin at the base of the petal and work your way upward, as noted by Emily Pinon, founder and creative director of Bastille Flowers and Events, on Instagram. "It will take a little practice, but once you get the hang of it you'll never look at your tulips the same!" she says in her Instagram post.
Needless to say, we can't wait to try this method this spring and summer.