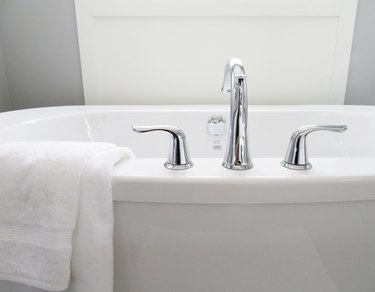 Although storing shaving cream cans in the bathtub is convenient, the practice can leave behind unsightly rings of rust. This is especially likely if your bathtub is made of plastic. And while keeping the can ‌out‌ of the tub will solve the problem, it's not your only option.
Courtesy of @byjillee on Instagram, we recently learned that clear nail polish can get the job done. All you need to do is apply a light coat to the bottom of the can, then let it dry completely. This will prevent direct contact between the bottom of the can and water, thereby preventing rust.
However, if you don't have clear nail polish, this hack should work with other colors. The can itself might look a bit messy, but it will still help minimize rust from forming.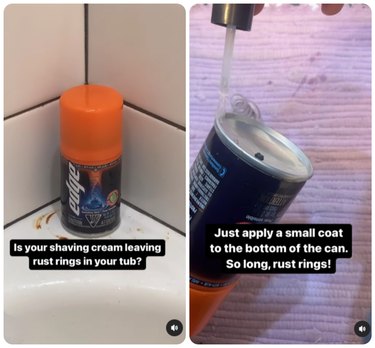 But what if you already have rust in the bathtub? Check out our guide on how to remove rust on a plastic tub surround using common household supplies like vinegar, lemon juice, and salt. If that doesn't work, @byjillee recommends using CLR Calcium Lime and Rust Remover.
How else can you prevent cans from leaving rust?
On Instagram, one user suggested placing the can on top of a plastic lid from foods like sour cream or Pringles. Not only is this a great alternative if you don't have clear nail polish, but it's helpful for repurposing plastic too.
Other ways to use clear nail polish at home:
As it turns out, clear nail polish can do more than prevent rust rings. The item is also great for applications such as:
Sealing frayed shoelaces or threads on clothes
Reinforcing labels on bottles
Coating the inside of rings to prevent green fingers
Keeping loose screws in place
Protecting waterproof markers
Sealing envelopes
Who knew clear nail polish could be so handy around the home?