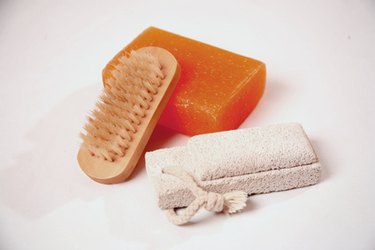 Several household products, especially salt, lemon and vinegar, can be effective cleaners for removing rust stains in the bathroom. Plastic tubs are susceptible to a build-up of rust colored stains due to the mineral content of bathwater, according to the Family Handyman website. Iron deposits common in tap water cause rust stains as they are exposed to oxygen. Metal-bottomed products such as saving cream also cause rust rings to develop. Remove rust stains by using a regular bathroom cleaner approved for rust removal during weekly bathroom cleanings. Also, use household products to spot treat between regular cleanings.
Regular Bathroom Cleaning
Step 1
Remove fabric shower curtains, rugs and spare towels from the bathroom before cleaning the tub. Rust stain-approved cleaners often stain fabrics.
Step 2
Fill a spray bottle with a bathroom cleaner approved to treat rust stains. Gently spray the tub and shower walls so that all surfaces are covered with the bathroom cleaner.
Step 3
Allow the product to sit on the stains for 10 to 15 minutes. In many cases, the product's foam will begin to turn rusty as it draws the stain out of the plastic.
Step 4
Scrub gently and slowly at rust stains in a circular manner with a soft-bristled scrub brush. Wipe clean with a paper towel or a soft cleaning towel.
Step 5
Fill an additional bottle with water and spray the tub and shower walls. Wipe clean with a paper towel or a soft cleaning towel to remove any product buildup from the clean tub.
Spot Cleaning with Household Products
Step 1
Soak cleaning rags or paper towels in vinegar. Place the vinegar-soaked towel over rust stains for 10 to 15 minutes. Wipe clean to remove the stain.
Step 2
Shake a pile of basic table salt over any remaining rust stain residue. Pour 1 tbsp. of lemon juice on top of the salt pile. Allow the salt and lemon to sit on rust stains over night.
Step 3
Wipe the salt and lemon residue away with a clean rag. For stubborn stains, gently scrub the area with a pumice stone to remove any remaining rust.
Step 4
Fill a bucket with 1 part vinegar and 3 parts water. Place a plastic, rust-stained shower curtain liner into the vinegar. Allow it sit over night. Spray clean with a garden hose.