When it comes to good sleep habits, I'll be the first to admit that it's a balance I struggle to achieve. Whether it's not sleeping enough, sleeping too much, or going through napping phases, I've always wondered if I've ever truly gotten a good night's sleep in all of my adult life. So, when I had the opportunity to test out an Oura Ring Gen3, I was beyond excited to learn more about my sleep habits and put my newfound knowledge of better sleep quality to the test. Here's my honest review.
‌(While I did receive the Oura Ring Gen3 in exchange for an honest review, all of the following thoughts and opinions are my own and are not influenced by Oura in any way.)‌
Combining sleek jewelry and technology, the Oura Ring is a smart device that tracks your sleep, fitness, and overall health. It initially launched in 2013 and has grown to be one of the most popular sleep trackers on the market, with over 1 million members using the devices.
The Oura Ring Gen3 is the brand's third generation of rings that uses "advanced sensors, updated algorithms, and new software features to provide an improved, personalized health experience." It's available in two designs: the Oura Ring Gen3 Horizon ($349-$549) and the Oura Ring Gen3 Heritage ($299-$449). The Horizon is rounded like a traditional ring and comes in five colorways: silver, black, stealth, gold, and rose gold. The Heritage is the less expensive of the two. It has a flat edge on the top and doesn't come in rose gold.
It's also made from titanium, making it durable and lightweight. Plus, it's water-resistant. It comes with a convenient ring holder and charger specific to your ring size.
How do I find the right Oura Ring size?
Before you get the official Oura Ring, you order a sizing kit to find the right fit for you. In the kit, there are eight plastic rings from size six to 13. (The Oura Ring sizes are slightly different from standard ring sizes.) The brand recommends wearing it for at least 24 hours to get a feel for it and to wear it on your index finger for optimal performance and accuracy. However, you can technically wear it on any finger as long as the sensors make contact with your skin.
Throughout the process, I was probably the most stressed about finding the correct size. Since weight can fluctuate throughout the day, it was hard to narrow down which one to choose. I was torn between a seven and an eight for my index finger and wished there were half sizes available. Ultimately, I ended up choosing the smaller size. The brand recommends picking the smaller of the two due to better accuracy, and the sizing kit rings are slightly "stickier" and might not slide off as easily as the actual ring.
While the fit is okay on my index finger and the actual ring was easier to take off than the sizing kit ring, it's definitely on the snug side, and I tend to wear it on my ring finger where it's the most comfortable and slightly more roomy. But I'm a little nervous about how the fit will be during the summer when it's more humid, so I might exchange it for the size eight so I have the option to wear it on other fingers to switch it up from time to time.
Tip
Even though the brand recommends sizing down if you're between two sizes, I would size up if there's not too much of a gap between your finger and the ring. This completely depends on personal preference, but as long as the sensors still touch your finger, I think it's more comfortable to have a ring that's too loose than potentially too snug.
How does the Oura Ring work?
The Oura Ring Gen3 uses three types of sensors — infrared photoplethysmography sensors (PPG) for heart rate and respiration, a negative temperature coefficient (NTC) sensor for body temperature, and a 3D accelerometer for movement — to give you Readiness, Activity, and Sleep scores. Essentially, the Readiness score lets you know your overall health and how ready you are for the day using previous activity, sleep stats, and metrics. The Activity score tracks your daily movement, inactivity, and rest, and the Sleep score tells you how well you slept. All the insights are available on the Oura app (which you can continue to use after a free trial for $5.99 per month).
How does the Oura Ring help you sleep better?
Before using the Oura Ring, I was the most curious about how naps affected me, how long I was actually sleeping, and most importantly, the quality of my sleep. And it turns out that Oura lets you know all of that and more.
For starters, Oura has a Bedtime Guidance feature that uses past sleep scores to notify you when it's the optimal time to go to bed. Truthfully, I don't always go to bed around that time, but I do use it as a reminder to try to wind down, whether it's starting my nighttime skin care routine, reading, and dimming the lights.
As for the other sleep stats, the Oura Ring tracks your:
‌Total sleep time:‌ The time spent in light, REM, and deep sleep along with any naps you take
‌Sleep efficiency:‌ The percentage of time you're sleeping vs. awake in bed
‌Restfulness:‌ A ranking tracked by how much you wake up, move, and get up in bed vs. sleep and nap time
‌REM sleep:‌ The percentage of time spent in the REM sleep stage
‌Deep sleep:‌ The percentage of time spent in the deep sleep stage
‌Latency:‌ The time it takes for you to fall asleep at night
‌Timing:‌ A ranking of the optimal time you go to bed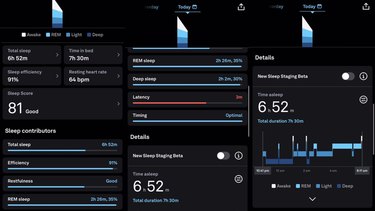 As for naps, well, I love a good nap. The Oura Ring detects when it happens, and you can confirm it in the app. Typically, they will last around 30 minutes or so, which doesn't seem to negatively affect my sleep score. In fact, if I don't get a good night's rest and take a nap earlier in the day, it'll boost my sleep score a little.
While I'm still trying to develop better sleep habits, the Oura Ring is definitely guiding me in the right direction. On the app, you can click on each stat to learn more. For example, if your Restfulness score is low, the app has suggestions for optimizing your sleep environment and getting a more restful sleep.
What are the pros and cons of the Oura Ring Gen3?
Pros
Provides in-depth information on sleep and health
Very stylish design
Long battery life
Rest mode
Guided exercises on the app
Cons
High price tag
Paid membership-based app
No half sizes available
As someone who is invested in learning more about sleep, the benefits of the Oura Ring outweigh the cons. It provides more sleep info than I ever knew I needed and has a super minimal and fashionable design, not to mention that the battery life can last for up to a week and takes only a few hours to charge.
Another major benefit is that you can put the ring in "Rest Mode." It's designed for days when you need to prioritize rest over hitting your step count, whether you're sick, injured, or just need to chill. This setting pauses features like your Activity score and readjusts your Readiness and Sleep scores so you're able to focus on resting. Compared to other apps, I think Oura can be a great tool for finding a balance among sleep, rest, and activity, and Rest Mode is proof.
Additionally, the app has guided exercises with meditations, breathwork, and even bedtime stories. There's also a "Learn" section where you can learn about different factors that affect sleep, including caffeine and temperature.
The biggest setback of the Oura Ring is that it doesn't come cheap. The least expensive version of the Oura Ring Gen3 is still around $300, which is around the same price as the cheapest Apple Watch.
Another potential downside is that the Oura Ring and app use a paid membership that costs $5.99 per month. For some, that might be a dealbreaker, as the ring is already an investment on its own.
Lastly, as I mentioned in the section about sizing, the ring doesn't come in any half sizes. It can leave many people, including myself, stuck between a fit that's a bit more snug and one that might be too spacious.
Is the Oura Ring worth it?
If you're looking for a stylish, high-tech gadget that will give you more of a deep dive into your sleep habits and health (and have the budget for it), I highly recommend the Oura Ring Gen3. It has a minimalist yet chic design and gives you insights and tools to improve your overall health, find balance between activity and rest, and help you get your best night's sleep yet.