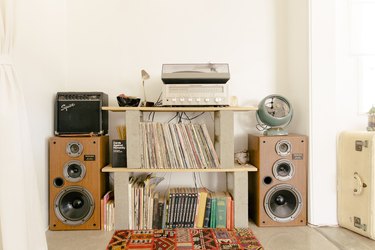 It's time to transform the way you listen to music and watch movies. Whether you're looking for a sleek sound bar for below your television, multi-room speakers to blast your favorite jams, or a full home theater system, this is the place to be. We rounded up the five best home sound systems available on Amazon from budget buys to worthwhile splurges. Keep scrolling for all the deets.
This sleek system is engineered to fit perfectly below your flat screen, equipped with seven individual speakers, and its length makes for spacious sound and a rich listening experience. The best part? Its new Dolby Atmos technology allows artists to place each and every sound into its own part of the room, making you feel like you're truly living inside the movie.
If you're working within a budget, the Kanto YU4 is the way to go. With built-in Bluetooth, an accompanying remote control, and an integrated phono preamp for playing vinyl, this pair gives you the most for your money. The elegant, compact design is a bonus, especially if you're looking to get superb sound in a small space.
This Klipsch setup has it all. A few highlights include the speaker system's easy installation, the brand's long legacy, and the most important factor — its top-tier sound quality. The R-51PM is also beautifully designed, relatively affordable, Bluetooth compatible, and requires no receiver to achieve top-notch sound quality, courtesy of the integrated amplifier. Please note: Speakers are sold individually.
Like its little brother above, the Klipsch home theater pack is the crème de la crème of sounds systems. This set includes two Reference Floorstanding Speakers, the All-Digital Powered Subwoofer, the Reference R-52C Two-Way Center Channel Speaker, and a pair of the Reference R-41M Bookshelf Home Speakers. This may just sound like lots of big words, but we can assure you this set has everything you need for the ultimate surround sound experience.
The Sonos One models are the ideal multi-room speaker option on the market. The set up is easy and intuitive, the design is sleek and timeless, and the sound is ultra-crisp. Plus, you can control the device with your voice since Amazon Alexa is built right in.