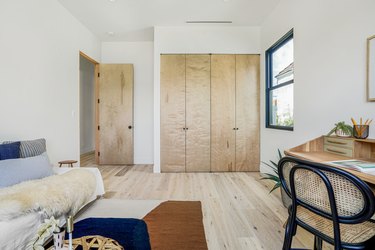 Bifold doors make great bedroom closet doors, and if you have any in your house, you appreciate how easy they are to operate and to maintain, but there are a few things you probably don't appreciate. Because they fold like an accordion, they block part of the door frame when they're open and limit your access to the closet. Moreover, you or one of your kids may have gotten fingers pinched between the panels when closing the doors. You can remedy this with a simple DIY makeover that turns those pesky bifold doors into French doors that provide access to the entire closet with the doors open.
This sounds like a big job, but it's a piece of cake for anyone with basic carpentry skills. Bifold doors are lightweight, so there's no heavy lifting involved, and you have your choice of a quick basic makeover or a slightly more time-consuming one that can make those French doors forget they were ever closet bifold doors.
If you peruse the internet, you'll find a plethora of design ideas for this project, which attests to how doable it is. It's not a bad idea to research them, but when it comes down to it, you'll end up doing it your way to get the results that best suit your home décor sensibilities.
An Overview of the Process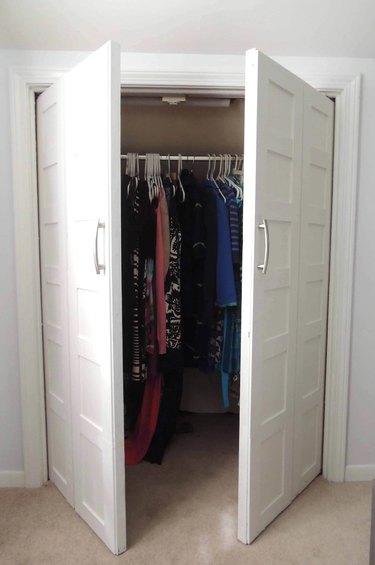 Before you dive into the project, it's good to have an idea of what you're up against. Very simply, what you'll be doing in this DIY project is:
Taking down your closet bifold doors (or maybe they are doors to the laundry room, a pantry, or even the dining room).
Removing all the bifold accessories from the doors and the door frame.
Attaching hinges to the door panels and rehanging them in the frame.
Removing the hinges connecting the door panels (and if you have a double bifold door, you'll be connecting the two pairs of panels together to make two single panels).
Filling holes and painting the panels.
Installing door hardware, such as doorknobs or a door handle, and a magnetic catch or some other mechanism to keep the doors closed.
The process is pretty straightforward for a single bifold, but if you have a double bifold door, the method you use to connect the panels will make the difference between a utilitarian job and top-quality one. The utilitarian method is to connect the panels with metal plates, but if you do that, you're always going to see the plates. That may be fine for a closet, but for a passage door, you need a more sophisticated method, which is to glue and screw the panels together and then fill and sand the gap between those panels on both sides. It takes more time, but as with most DIY home improvement projects, the extra time is worth it.
How to Turn Bifold Doors Into French Doors
Before you start, make sure you have a large, flat area or a pair of sawhorses where you can lay the doors. Since you'll probably be sanding and painting the doors, it's best if this is in the garage, in the basement, or outside. There's no sense messing up the carpet in the living areas of your house.