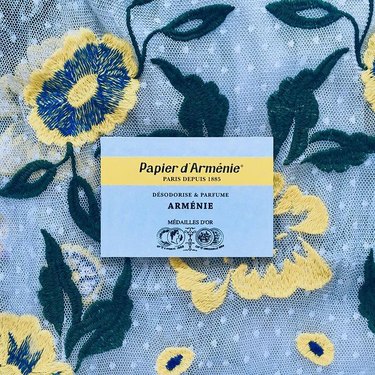 If there's one item that's been giving me déjà vu as of late, it's French burning paper. I fully realized this when I received an email about the perfumed sheets from European homeware brand Flotsam+Fork. I'd also been seeing the item all over Instagram, where most home trends start, and in a video by Kristen Pumphrey, the founder and creative director of P.F. Candle Co. However, my repeat sightings haven't involved just any French burning paper, but that of the iconic Papier d'Arménie brand.
"The classic Papier d'Arménie scent has been in production since 1885 and the predominant scent is of benzoin resin from the bark of the styrax tree," Adrianna Fie and Joe P. Hasler, the owners of Flotsam+Fork, tell Hunker. "It actually debuted at a health exhibition in 1888 because the initial use was thought to be more medicinal — with the belief being that it disinfected the air — but the pleasant scent gave it more widespread appeal. It can still be found in many French pharmacies."
According to Papier d'Arménie, it all began when French chemist Auguste Ponsot travelled to Armenia, where he noticed that locals would scent and attempt to disinfect their homes by burning benzoin. Ponsot grew fond of the idea and decided to have the resin imported to France. Henri Rivier, Ponsot's business partner, then discovered that if you dissolve benzoin in alcohol, it creates a long-lasting fragrance. On its own, benzoin gives off a vanilla and balsamic aroma.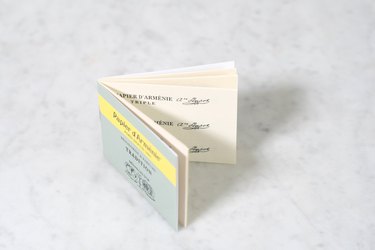 Once Rivier figured out that blotting paper was the perfect canvas for his concoction and included supplemental scent extracts, Papier d'Arménie (aka "Armenia paper") came to life. Specifically, the "Tradition" line was created. Fie and Hasler explain, "The new scents, ['Arménie' and 'la Rose'], developed in partnership with a French perfumier, were only launched much more recently."
"Tradition" stays true to the sweet smell of benzoin, while "Arménie" was designed to evoke incense, myrrh, vanilla, and woody notes. As for "la Rose," it is that of a full-bodied rose. None of these fragrances are overpowering. They are light and subtly powdery in burning paper form, yet potent enough to transform a space. In addition to putting a match to them, these papers can be stored in a wardrobe so that your clothes will always smell Parisian chic.
Papier d'Arménie burning papers come in a small booklet that, according to Fie and Hasler, is akin to "something classic and old world, and adds to the brand's appeal." When you're ready to use the product, you simply tear off a sheet, fold it accordion-style, gently light it, and allow the paper to smolder while it releases its scent. Pumphrey of P.F. Candle Co. describes this method as something that "makes you feel connected with the process," and Plessner comments that it's beautifully ritualistic.
Alongside Papier d'Arménie's perfumy appeal, Pumphrey highlights the product's burn time. "I'm like Janeane Garofalo in ​Romy and Michele's High School Reunion​ with my love for quick-burning paper (twice the fragrance in half the time)," she tells Hunker. "They burn in about five minutes, which means I don't have to crack open a window to vent the smoke. I light one up while I'm getting ready in the morning."
Creative director Leigh Plessner — who introduced jewelry and lifestyle retailer Catbird to Papier d'Arménie — says that the burning papers are especially great for small apartments. "They're useful for New York apartments, which are often small and where kitchen scents travel, and sometimes you get some of the smells of your neighbors' cooking, too," she tells Hunker, going on to say that loving Papier feels like joining "a small secret cult that stretches back well over a century."
Aside from the unforgettable scent, the Francophile novelty, the interactive process, and the fragrance's lasting nature, Papier d'Arménie is also lauded for its price. For only $7, you get a booklet filled with 30 strips. Plus, the paper has been certified by the Forest Stewardship Council and contains no ozone-harming propellants, so it's seen as an environmentally friendly home scent option.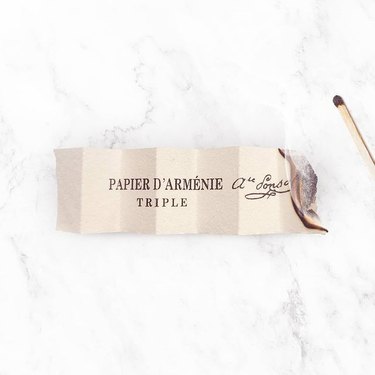 At both Flotsam+Fork and Catbird, Papier is a strong seller. In fact, Fie and Hasler state that when they first opened their brick-and-mortar shop, everyone flocked to the Papier d'Arménie display based on the scent alone.
But, what does Papier think about all this? "We strive to keep the spirit of a family company, which still works by hand to offer the best quality," Eva Monnet, the brand's sales manager, tells Hunker. "We are proud that a small French company sells its products in many countries, even if most of the sales are in France." Besides burning papers, Papier d'Arménie also sells candles and burners designed specifically for its papers.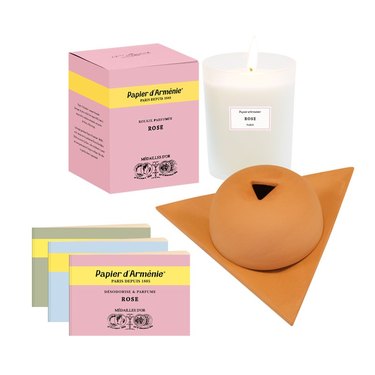 As for the company's future, Monnet says, "We don't have any special projects [in the works] today, but we [aren't ruling anything out]! If we find a good new scent, we would be glad to produce it." Yet, even if Papier doesn't release a brand new fragrance, we have a feeling it will be just fine with its beloved aromas that have been dubbed "the scent of Paris." You can't get more iconic than that.