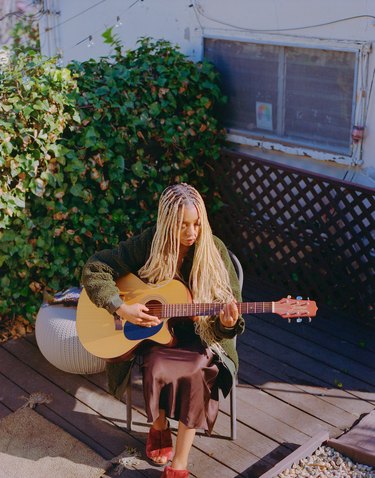 For Women's History Month, we are highlighting the people and projects you should know about all year long.
Veronica Camille Ratliff (also known as V.C.R) is an author, violinist, songwriter, recording artist, and budding herbalist — to name a few. Growing up in an art-conscious gospel family in Memphis, Tennessee, Ratliff began cultivating a strong musical and creative practice from "the womb to the pew," and beyond — the fruits of which can be seen in her recent best-selling book, ​The Creative Black Woman's Playbook​ (published by Co-Conspirator Press) which sold out of 300 copies within the first eight months.
Ratliff also created the Creative Black Woman's Network, an offshoot community for Black women's collective empowerment, collaboration, and resource sharing. Its Instagram account highlights Black women from past and present, like violinist Karen Briggs, folk musician Elizabeth Cotten, and jazz pianist Hazel Scott.
Her upcoming EP was written, recorded, and produced by her from her home in Los Angeles. She shares more about her family lineage, creative flow, and how she co-creates with the universe, below.
​Hunker​: We love ​The Creative Black Woman's Playbook​ and are so excited to see it being sold on your new online store, Youtopia Marketplace! How did the shop come about?
​V.C.R:​ Thank you! I just got a new installment of my books, so I'm going to be selling those in the coming weeks on Youtopia Marketplace. All the items in the shop are handmade [and] homemade by Black women. I'm also a studying herbalist and am going to be selling immunity blends, tea blends, and smoke blends.
​Hunker​: Are you practicing herbalism and all your creative work from home? How do you keep a flow going?
​V.C.R​: Yes, I've been doing everything from home — studio sessions, everything! It's a balance. You have to do the things you need to do, then reward yourself. Throughout the day, I'm encouraging myself. I might turn on my favorite song and dance for thirty minutes, or reward myself with a nap or the dinner I want. Like last night, I was craving home, so I made myself chicken piccata with linguine noodles.
​Hunke​r: How have you built a nurturing home environment for yourself this past year? Are there particular objects or pieces that you cherish?
​V.C.R​: Yes. Everything has energy. The most important items in my home are my violin, my guitar, my viola, and my plants. I also have a deck where I sometimes paint. My violin has been with me since my house burned down when I was twelve. I'm so connected to and protective of it. Growing up in Memphis — a city that is musical but where there aren't a lot of opportunities for Black and Brown kids — my violin has taken me places I never would have gone. It's the window to my creativity. I hear it first when I hear music.
​Hunker​: I read that you were raised in a gospel family. What was it like to grow up in Memphis, and how has your lineage and family history influenced your practice?
​V.C.R​: Everything I create is from the scope of what I've learned and [what has been] passed down ancestrally from my family. When I was younger, [my mother] wanted to write a book. You know, that inspired me. My father is an amazing musician and songwriter. I grew up in the gospel church, in choir, in symphonies, and art galleries. Everything I do, creatively and conceptually, is inspired by my family.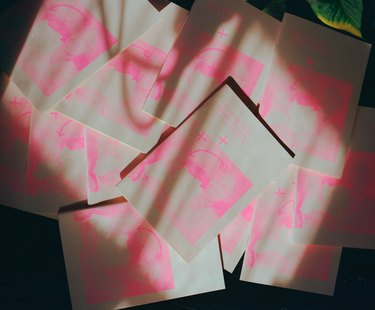 ​Hunker​: Your book, ​The Creative Black Woman's Playbook​, was dedicated to your benevolent ancestors and has been an essential contribution to a growing community of Black women artists and creators. What has that publishing experience been like?
​V.C.R:​ The book was written out of necessity. In writing this book, or a song — ​anything​ I do — I really analyze why. There was a time when I lived in LA, and I was working as a musician, but not getting paid. I was scared to ask questions. I needed to write a book for creative women that could help them see themselves as worthy.
​Hunke​r: How did the playbook lead to the Creative Black Women's Network?
​V.C.R:​ I was noticing, in all the industries I was working in, that women were not having these conversations or sharing resources with each other. For me, it's about building community. The network is a tangible community of Black women building their dreams. The network is a walking community; it's the legs of my book.
​Hunker​: What keeps you inspired?
​V.C.R:​ The affirmations I say throughout the day, the talks I have with my mother and my community. I feel like I personally have a legacy. I have a lot to contribute, and I've been given a lot, so I have to give a lot back to the universe. You have to partner with the universe. I'm not a healer, I'm just trying to heal me. I'm a musician, I'm an author, and I'm a boss. You can quote me on that.
​Hunke​r: You've got a new EP coming out soon. Can you tell us about it?
​V.C.R​: I'm so excited about my baby. I have been working on this project literally for four years, I'm producing it myself here in this home, and it's just magical. I have a new song out called "Minnie Lives." It's an ode to my past self, and it's dedicated to women who have suffered abuse and have had to build themselves back up. The EP is literally a book, a journey, a novel. I'm a storyteller, and this album is a story about me finding myself again, healing myself, piece by piece.