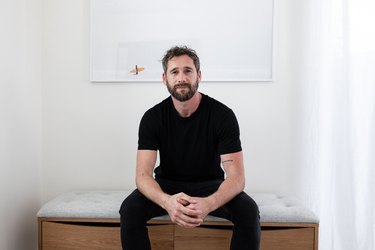 The thing about adventure photography is that you have to be out there in the world in order to capture it. You are part of the shot, even if you're nowhere to be found inside the frame, because you must be at the edge of the ocean, or the peak of the mountain, in order to capture it.
That's something that appeals to Lukas Griffin, a UK-born, self-taught photographer who has called Southern California home for nearly a decade now.
But Griffin's work is not adventure photography in the traditional sense. The subjects might be the same — surfers, cliff-divers, ocean-swimmers — but the style is more minimal, refined.
That's because, for him, the act of photography is about capturing a specific feeling.
"Freedom means everything to me," says Griffin. "That's what my photography is all about. I want to express that in my photographs, I think because I want to be that way myself — no rules, no boundaries. I want to get out there, be free, live life, and connect with nature."
There are two pieces of yours hanging in the Hunker House — "No Time," a group of surfers in Topanga, and "Nomad," a solitary surfer in La Jolla. Can you tell me a little bit about each piece?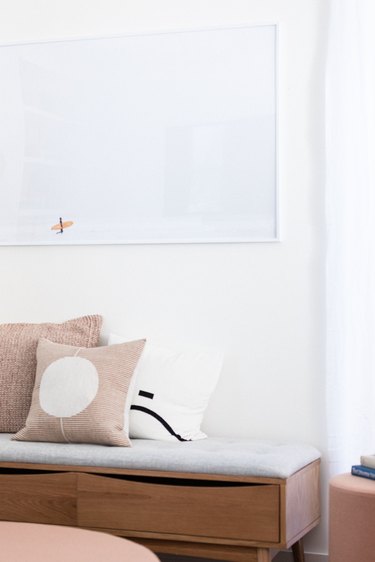 When I was younger, in my late teens and early 20s, I was a surfer. I traveled surfing — to Costa Rica, Australia, Indonesia, and other places. I wasn't a photographer back then. When I finally found photography, I was drawn back to the ocean, to surfing. That's why I enjoy photographing things like that. "No Time" reminds me of the simplicity of being in the present moment. That's what inspired that particular photograph. For Nomad, there's something about being on your own, being away from it all. It just reminds me of my youth, and those free spirited days of travel and adventure. And the minimalist style — I love being minimal.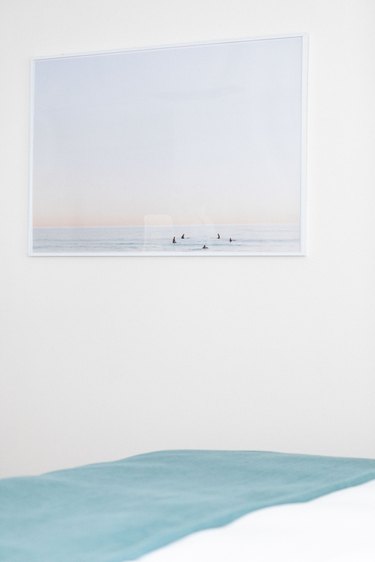 How are they representative of your work? Is this from a specific series?
I don't really photograph like that. I like to shoot freely. I photograph what I love and what I see. When I go to the ocean, I don't have a plan in mind. I feel and look and shoot. I don't really think about it too much. I'm always looking for new things. The ocean means a lot to me.
I notice that in these, and other photos, nature looms large, and people or animals are like embellishments or accessories. They are small.
I guess that they are. I'm drawn negative space. I'm a minimalist myself, I don't like things too complicated.
You've been in Southern California for almost a decade — seems like a good fit, given what you like to shoot. There's the ocean, the mountains, the desert.
My photography journey started in 2009. I had a surf school in the UK, in the South of Wales. It was just myself and my business partner. One day, we were teaching a group out in the water, they were having so much fun, laughing, having a great time. I said to my partner, do you mind if I buy a waterproof camera? I went out that night and bought a camera and started to photograph people during the sessions. I instantly fell in love with it. I had never thought about it before, but I felt a real passion for it. I knew from then on, I was going to be a photographer.
I told my partner, this is what I want to do.
It took me a year or two. I came to California in 2010, taking photos with a point-and-shoot. I would travel in my car a lot, taking pictures. Then I got a professional camera, started taking more and more images.
I used to spend 10 hours a day figuring out the camera and practicing. I'm completely self-taught. But I've had mentors and people that have inspired me along the way.
It looks like some of your earlier work — at least, from Instagram — focused on people more than wide open spaces. Do you feel like your work has been evolving in that direction?
The true story is, in 2010 when I said I was traveling around, trying to do artistic work, I wasn't getting paid for that back then. I put an ad on Craigslist for portraits and weddings, to try to make a little money with my camera. My first shoot was for maybe $50, a maternity shoot. A few weeks later, I did my first wedding for $300. And then the next one for $600, and then the next for $1000, and so on. I traveled all over the states, photographing weddings in the Bahamas, Mexico, and Hawaii, with features in Vogue and Martha Stewart. But what I really wanted to do was my artwork. I was going back and forth. I'd jump on a flight to go take some shots one week, then shoot a wedding the next.
I had an internal battle for a while. For a long time, I separated them. Lately I've started to embrace it more — there's artistry in the weddings — and I embrace it all. I decided not to follow the rule. It took me a while to figure myself out.
What are you working on now?
I started to do some underwater work. I'm starting to play with that. I have taken some shots in Hawaii, and I'm looking to go to Mexico to shoot some sharks. I love the ocean. I love wildlife. I also would like to get over to the Maasai, in Kenya, to do some wildlife aerials. I'm just enjoying the process. I used to be more obsessive. I had to do everything in one go. I really just enjoy it now, and take each year as it comes.
On the landing page of your website, it says, front and center, "Go Adventure." What does that phrase mean to you?
With "Go Adventure," I think I was really talking to myself. For me to get out there and live life. I love to be out in the world. I love people interacting with nature, humans and animals interacting with the landscape. It's a beautiful world and I just want to capture it.
A friend of mine said something to me when we were in Hawaii. We were doing some cliff jumping shots. I asked, How do you want me to capture you? And he said, Just shoot from your heart. Man, I like that. Ever since he told me that, I've started to really feel. Rather than overthink, I try to feel the image. That's how I feel now. I'm evolving. There's no beginning or end in my photography. There's never a place I'm going to get to. I want it to be an everlasting thing.