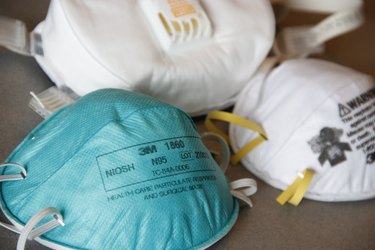 As new strains of the coronavirus are making themselves known, many people want to know more about the most effective face masks to wear. In addition to "double-masking," N95, KN95, and KF94 masks are becoming hot topics. Let's discuss.
First of all, it's important that we outline the difference between these three types of masks. According to ​Newsweek​, N95 masks meet a U.S. standard (National Institute for Occupational Safety and Health or NIOSH-approved) and tend to loop around your head and neck. They must also be properly fitted to each individual's face, whereas KN95 masks meet a Chinese standard and loop around the ears. Both have a "95" designation because they are meant to filter 95% of particles.
In September 2020, however, an Emergency Care Research Institute (ECRI) report revealed that up to 70% of KN95 masks imported from China do not meet U.S. standards. This was mostly a concern for healthcare professionals, who were advised by ECRI to still use KN95 masks over surgical or cloth masks as a last resort in clinical settings.
"KN95 masks that don't meet U.S. regulatory standards still generally provide more respiratory protection than surgical or cloth masks and can be used in certain clinical settings," Michael Argentieri, vice president for technology and safety at ECRI, stated in a press release.
KF94 masks, on the other hand, are the South Korean version of N95s. During an interview with ​The Strategist​​,​ epidemiologist Dr. Ravina Kullar said that "KF" stands for "Korean filter" and "94" means that the mask is 94% effective at filtering particles. Though you may think that KN95s are better than KF94s because of the higher percentage, Dr. Kullar pointed out two studies that concluded the opposite.
Epidemiologist Dr. Aaron Glatt also countered Dr. Kullar by saying that there isn't enough data to conclude that KF94s are better than KN95s. As a result, he recommends that one should simply go with the mask that fits their face shape the best.
With all of this in mind, what does the Centers for Disease Control and Prevention (CDC) suggest? In its current mask guidelines, the CDC recommends that the public avoid wearing N95 respirators because they should be saved for healthcare workers. KN95 masks are included on the list of types of masks, but the CDC warns they must meet NIOSH requirements and should not be worn if it makes it hard to breathe. In addition, the organization warns that 60% of KN95 masks in the U.S. are counterfeit (you can read more about identifying counterfeits here.)
Nothing about KF94 masks is mentioned.
Instead, the CDC advises that the public invest in washable, breathable cloth masks that have at least two layers. They should fit snugly against the sides of the face, cover the nose and mouth completely, should not have gaps or vents, and should not be made of a fabric that makes it hard to breathe (like vinyl). They should also "block light when held up to bright light source." For extra protection, users can wear a disposable mask with a cloth mask on top or combine a cloth mask "with a fitter or brace."
In fact, during a CNN Global Town Hall, CDC Director Dr. Rochelle Walensky said that N95 masks are often uncomfortable and hard to breathe in. Walensky fears this will mean that people won't actually wear them regularly.
"The most important thing is that everybody should be wearing a mask," White House medical advisor Dr. Anthony Fauci told CNN.