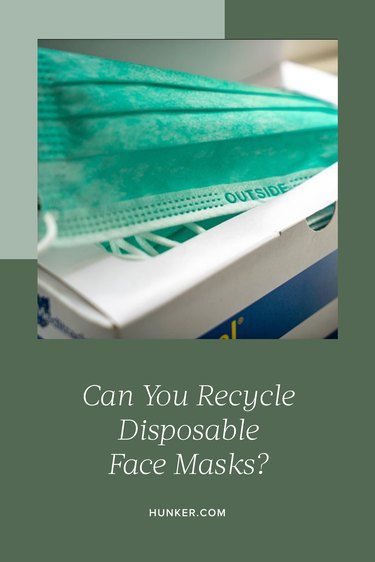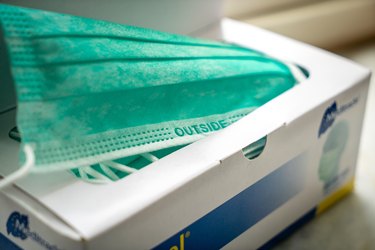 New cases of the coronavirus are being reported every day, which is why the CDC is still recommending we wear face masks in public settings — specifically, cloth face masks. However, if you are unable to obtain a cloth mask and are currently using a disposable one, you may be curious about when and how you should discard your mask.
"Disposable face masks are not meant to be recycled," Dr. Jaime Slaughter-Acey, a social epidemiologist and assistant professor at the University of Minnesota, tells Hunker. "They're created to be disposed of, generally after a single use. Because of that, they're not recyclable through conventional methods like other household items and shouldn't be discarded in household recycle bins. [They should be put in] the garbage bin."
Mitch Hedlund, the executive director of Recycle Across America, seconds that disposable masks should not be recycled. "I'm not aware of any place to recycle disposable face masks," she tells Hunker. "Cloth masks made of cotton are washable, but unfortunately the disposable masks are not."
Another reason why you don't want to throw your mask in the recycling bin, according to Dr. Slaughter-Acey, is because it could contaminate your recyclables. As a result, you would be putting the essential workers who pick up your recycling at risk.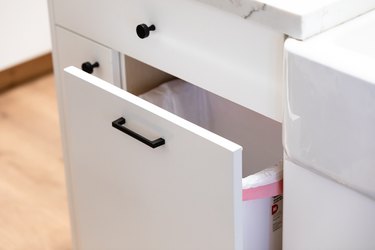 Though disposable masks are meant to be thrown out after one use, you may be wondering if you can reuse your mask to conserve supplies. Dr. Tobi Schmidt, a personal health advisor and educator, tells Hunker that you can reuse the mask, but only after minimal exposure — like after a walk in which you don't interact with anyone. She specifically advises, "It should be stored in a container that's breathable, like a paper bag. And as always, hands should be washed or sanitized before and after touching the mask. You have to assume with reuse that the mask is contaminated." If, on the other hand, you wear the disposable mask while interacting with others, it should be disposed of and not reworn.
You'll also know that it's time to get rid of your disposable mask when it shows wear and tear. "If your mask is breaking or visibly soiled or even not fitting as well, that's the time to toss it," infection preventionist and epidemiologist Dr. Saskia Popescu tells Hunker. "Since we can't clean them, try to be mindful of how much it's being worn."
Most importantly, you'll want to note that the CDC specifically recommends cloth face coverings for preventing the spread of the coronavirus. Disposable masks are considered critical supplies that should be reserved for healthcare workers. Fortunately, cloth face coverings can easily be made, cleaned, and reused without you worrying about when and how to dispose of them.