Carving out extra storage in a fully stocked refrigerator is no easy feat. Fortunately, there's an assortment of clever organizers that can help you score more fridge space in seconds. From sliding egg holders to bottle stackers and beyond, here are eight gadgets for under 25 bucks that will keep your refrigerator organized while providing extra storage opportunity.
If you like to store leftovers in plastic baggies, then we've found an affordable fridge storage solution for you. This self-adhesive organizer mounts underneath most refrigerator door shelves and can hold up to 10 snack or quart-sized plastic storage bags.
Why waste valuable fridge space on a carton of eggs when you can forge your own mini egg drawer instead? This sliding egg holder drawer attaches to most standard sized refrigerator shelves so you can take advantage of the open space underneath.
If you struggle with making room for all your fruits and veggies in your crisper drawers, try adding some stackable drawers to your refrigerator. This clear plastic fridge drawer stacks securely on top of other clean-lined storage bins and boasts a removable divider to help you stay organized.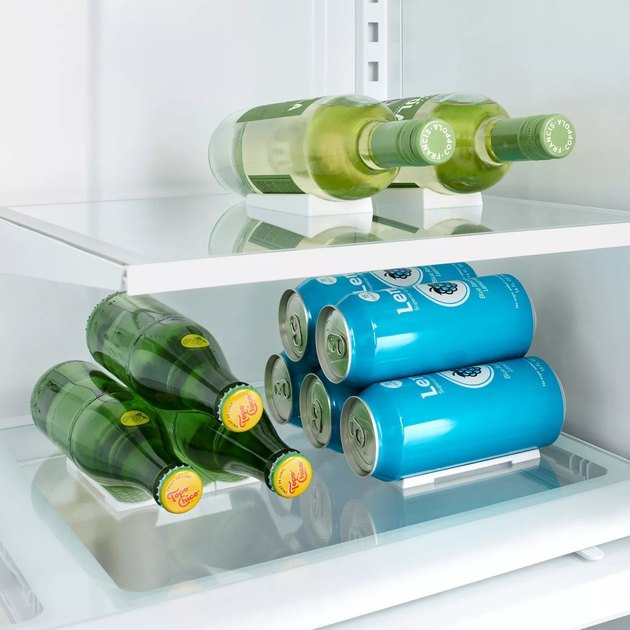 A good can stacker can free up tons of storage space in a cramped fridge. This 10-piece set organizer set includes eight non-slip can holders that hook together for goof proof can stacking, and comes with two wine bottle holders to boot.
Dreaming of a compact fridge drawer that you can carry to the sink or counter with you? This durable plastic organizer bin is the perfect size for stashing fruits and vegetables and features two side handles for easy transportation.
Let's face it: Wine bottles tend to take up a lot of fridge space. Luckily, this freestanding wine rack can be stacked to create ample vertical refrigerator storage opportunity, and is sized to hold a variety of bottled beverages.
Why overcrowd your refrigerator shelves and doors with perishables when you can create more storage space out of thin air? This pullout drawer is designed with removable partitions and simply slides under a refrigerator shelf to provide extra storage room — no tools necessary.
The only thing better than a retractable fridge drawer is one that extends the freshness of your food. This handy set of four plastic storage baskets attaches easily to your fridge shelves and features a ventilated design that helps keep food fresh.
---
Caroline Biggs is a writer living in New York City. Her work has appeared in The New York Times, Apartment Therapy, Refinery 29, and more.
View Work