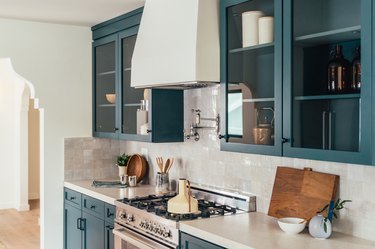 Winning the battle against a stubborn grease spot on your stovetop is one of adulthood's greatest victories. Okay, fine: We'll concede that might be a slight exaggeration. But for now, let's focus on a specific concern — how to clean a stovetop using natural, environmentally friendly methods.
While there's a sea of products on the market that will do the trick efficiently, we're zeroing in on the degreasing and disinfecting approaches that get rid of food gunk while being eco-friendly.
This is everything you need to know.
There are many natural and DIY stovetop cleaning methods. And a ton of simple items can make your cooking surface sparkle, including common household products you probably already have in your pantry or fridge. For starters, prep your stove to be cleaned by making sure the range is cool, and follow up by removing burner caps, knobs, and grates. Then you can try your hand at a pretty straightforward natural method that requires table salt and baking soda. Combine a tablespoon of each with a tablespoon of water. Mix the contents together, using a cloth to apply the cleaner to your stovetop and scrub away stains.
If the remnants of fat-based foods are hard to remove, a basic solution of white vinegar diluted with water will sufficiently dissolve any leftover particles.
For gas stovetops, in particular, try a vinegar and baking soda mixture. After wiping with a damp cloth or paper towel to collect food particles, use the eco-friendly cleaner to get rid of tough grease stains. Combine one part of vinegar for every two parts of baking soda, and apply with a nonabrasive cloth or natural sponge. Allow it to sit for 10-15 minutes, then scrub everything away. Baking soda with dish soap and water can also tackle dirty stove burners. Let the mixture thicken, wait 20 minutes, then scrub the burners with a brush until clean. Rinse with water, and let everything air dry.
Also, when life hands you lemons, clean your glass or electric stovetop with them! Start by covering the surface with baking soda. Then using half of the citrus fruit, scrub the baking soda into the range. Wipe away the mixture with a damp cloth, and, voilà — you have a stain-free surface the natural way.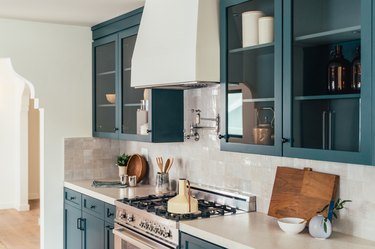 Before you go swiping away stains with that trusty eco-friendly cleaning method, make sure your appliance can withstand the process. For instance, when cleaning a gas stovetop with water you should practice extreme caution to avoid getting the electric starter wet. However, that precaution can be less necessary with glass or enamel ranges. Additionally, ceramic cooktops are prone to scratching, so consider substituting natural sponges, or loofahs and cloths dampened with vinegar, for abrasive scrub pads, steel wool, or other harsh cleaning agents.
Eco-Friendly Stovetop Cleaners You Can Buy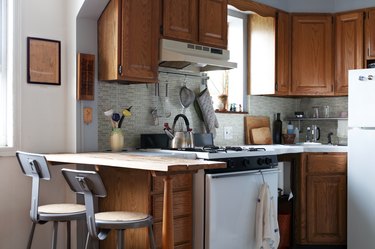 So, you'd rather save your lemon for, well, lemonade — or perhaps your baking soda is busy absorbing odors in the fridge. In that case, instead of DIY methods, you could always go the commercial route. Some popular options are Mrs. Meyer's Multi-Surface Concentrate and the HAUS Naturals line of biodegradable cleaning products that promise to give you streak-free results. Another eco-friendly stovetop cleaner for heavy-duty messes is Weiman Glass Cooktop Cleaner and Polish. It's nonabrasive and suitable for use on glass and ceramic surfaces.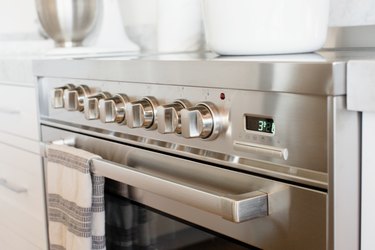 When exploring how to clean a stovetop the green way, we can't overlook the pros and cons involved. The most obvious advantage of eco-friendly methods is the elimination (or reduced use) of plastic products or ingredients that harm the environment. Additionally, many of these DIY methods are far cheaper than commercial products. As an added bonus, environmentally friendly goods don't contain hazardous chemicals, which means fewer health risks.
On the other hand, some of these green cleaners don't necessarily smell as good as their non-natural counterparts (vinegar, we're talking about you). If that's the case, try following your cleaning session with a room deodorizer of your choice, like essential oils or activated charcoal odor neutralizers.