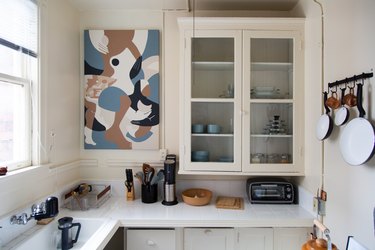 Ceramic cookware is all the rage these days. And we're not surprised. These pots and pans come in seemingly a million different on-trend colors and tout eco-friendly benefits that are even good for your health. But before you make the investment, you should know exactly what you're committing to. Scroll on for everything you need to know.
What Is Ceramic Cookware?
It's actually not ceramic, at least not completely. Ceramic cookware is metal (typically hard-anodized aluminum) that's been coated in a layer of ceramic, and conveniently, it's nonstick. There are 100 percent ceramic options, from brands like Xtrema that are ceramic "from the glaze to the core." You may prefer this option if you're worried that the ceramic coating may disintegrate over time, which could allow the aluminum material to leach into your food.
As it turns out, there are some notable pros when it comes to ceramic cookware.
It's free of the man-made chemicals PTFE and PFO, the chemicals seen in Teflon. According to the American Cancer Society, these chemicals have been known to bring on health concerns, including cancer.
Additionally, you won't be burning off harmful chemicals as you cook, making ceramic pots and pans eco-friendly to boot.
Gourmets say that ceramic cookware holds heat better and longer, which can prevent overheating.
Last but certainly not least, it's a cinch to clean.
With most anything, ceramic cookware does have a few downsides to consider.
It's fairly pricey, so if you're sticking to a tight bottom line, ceramic cookware tends to be more expensive than its aluminum or stainless-steel counterparts.
While the heat holds better and longer, it should also be said that the heat distribution is less efficient, resulting in food that can cook erratically and slowly.
They're not especially durable, since they scratch very easily and have a rough surface that can lead to wear and tear.
These pots and pans weigh more, so you'll have to be prepared to do some heavy lifting.
Many ceramic pieces are not dishwasher-safe, so that means you'll have to hand-wash them.
One potential danger of ceramic cookware is that it can get chipped, and those chips can end up in your food.
Since the sand that's used to create the ceramic coating is natural, it's considered very safe. And since it's glazed in a kiln instead of coated or dipped, that makes it safer, too. More research needs to be done, but at the very least, it's free of the unsafe chemicals associated with Teflon. It's also generally thought to be safer than stainless steel cookware, since your food may absorb the metals from the stainless steel.
What Are the Safest Brands?
There are definitely ceramic cookware brands out there that stand out from the crowd and are beloved by consumers.
Caraway: Displaying a huge array of trendy colors, Caraway is definitely the darling of the ceramic cookware world. The brand shares plenty of benefits, like the fact its cookware releases 60 percent less CO2 when compared to traditional nonstick coatings and is ethically manufactured.
GreenPan: Boasting collaborations with Goop and Food52, GreenPan is another top favorite. It's a Belgian brand that uses a coating called Thermolon that's nontoxic.
Our Place: As the Swiss Army Knife of ceramic cookware, the Always Pan historically sells out in a flash and can do the work of eight pieces in one. Plus, it's coated in an environmentally-friendly ceramic nonstick coating — which means no PFOAs, PTFEs, GenX chemicals, or any other questionable materials.
---
Shelby Deering is a lifestyle writer who contributes to national magazines and websites, including Country Living, Good Housekeeping, Well+Good, and more. When she's not writing, you'll find her shopping flea markets, hiking, and going for walks with her corgi.