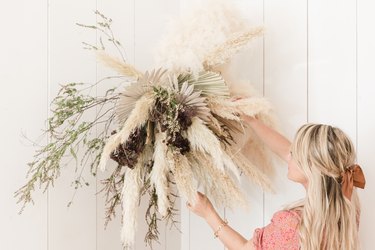 It's time for Fall at Home: Hunker down, bundle up, and make the season as cozy as possible with our foolproof guide to autumn.
If you're one of the 30.2k people who follow Amber Thrane on Instagram, then you are very familiar with her earthy-hued, golden hour aesthetic. She is a DIYer with a definite eye for beauty. To help bring a feeling of fall into your home, we think you'll absolutely love this autumn-inspired floral arrangement she designed for Hunker...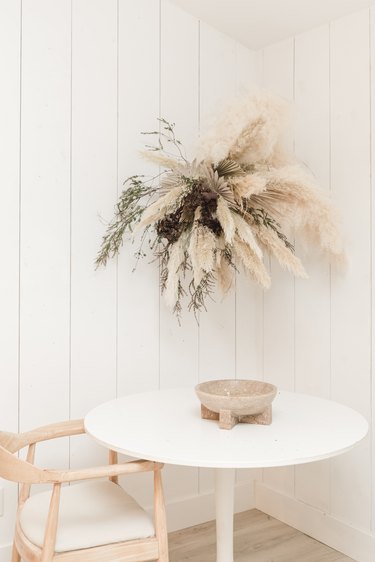 Thrane explains, "I wanted to create an easy statement piece that can hang over the dining room table or even in an empty corner to bring some extra fall vibes into the home. And the best part? You can use all dried plants and flowers, so this can last all throughout the fall season and even make an appearance above your Thanksgiving table. This was a super fun piece to make and I know you'll enjoy it, too!"
Things You'll Need
Step 1
Spray each pampas grass with hairspray to ensure that they don't shed while you're creating your floral hanging.
Step 2
Take your floral foam block and place at the center of your chicken wire and wrap around your block. Twist into an organic and fluid shape, flowing slightly smaller on one end to larger on the other end. Twist the ends of the wire together to secure. Use the florist wire to stitch through and bind the weaker points together if needed.
Step 3
Hang your mold securely from the ceiling wherever you want your floral arrangement to hang.
Step 4
Once it's hung, start adding in your pampas and larger pieces. Insert them through the center of the foam floral block and continually take steps back to see where you need to input more pampas to give it movement throughout.
Step 5
Add in the longer Calcynia branches off to one side to include fresh greenery. Be sure to use flowers and greenery that dry out well so the final installation could hang up throughout the fall season and still look great.
Step 6
Finally, put the dried palms fanning out of the center, and then frame in the darker brown Sedum flowers.