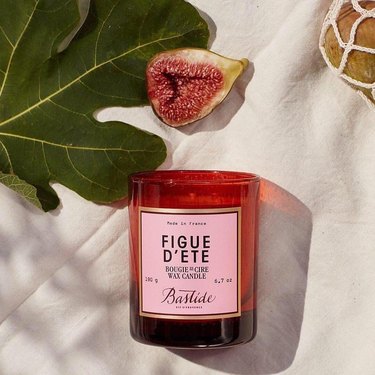 At the beginning of the pandemic, as a quarantine project, I decided to get better about managing my waste. This led me to adopt the rule: "I will only buy a new product when I've used up the products I already have." In terms of candles, I didn't think this would be an issue because there wasn't one specific candle I ​had​ to have at all times. That is, until I burned through Bastide's Figue d'Ete candle and my new rule made me sweat.
When I was sent this candle a few years back, I didn't think much of it. I'm not typically into fruity or floral scents, so when I saw that this candle has notes of crisp fig leaf, sweet cassis (aka blackcurrant), and cyclamen petals, I judged a candle by its packaging. I kept the candle, but chose to use it as decor, since it comes housed in a hand-blown, pinkish-amber glass votive that looks right at home on my mantle.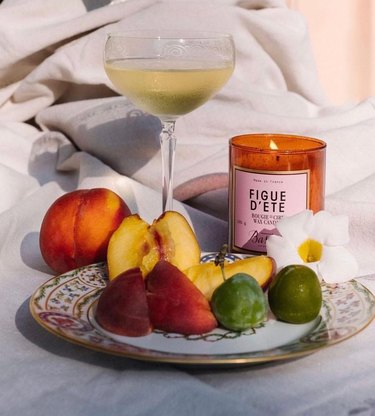 Then, it happened. A few months ago, I lit the candle, dutifully trying to use all the candles I had, and within minutes, my home smelt like a summer breeze blowing through a fig orchard. If I could describe it in three words, I'd call this scent fresh, musky, and figgy. It instantly transported me to nature instead of the apartment I'd been quarantining in for weeks on end — and then, it was gone. The candle has 45-50 hours of burn time and I blew through those hours like I was bingeing a new true crime show on Netflix.
Suddenly, I found myself wanting to buy another Figue d'Ete candle, to wrap myself in the scent of ripe figs as the horrors of 2020 unfolded around me. However, I begrudgingly stuck to my rule and every day since then, when I work to burn through other candles, all I can think about is Figue d'Ete. I even turned the Bastide candle jar into a pen holder because I love looking at it as I try to evoke the memory of its former scent.
Once I burn through the candles I currently have, I will be repurchasing this Bastide candle. It's $65, and though that's more than I'd normally spend on a candle, I fully believe it's worth it. Figs — who knew?!