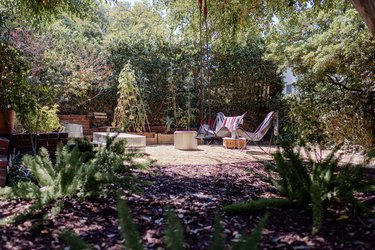 I'm a beginner at the yard work and gardening game. Since I currently work from home, I've traded my commute time into watering-my-outdoor-plants time. My current focus is on reviving a wall of Podocarpus, starting a mini herb garden, and growing a variety of sage plants, like Cleveland sage. (Side note: I've placed several sage plants in these planters from CB2 and my herbs in these planters — they look so lovely!)
So, while I'm excited to finally be flexing my green thumb, and it's fun to watch my greenery thrive, there really is one thing that pulls me outside every day and truly thrills me.
I love it so much. I've even turned my discerning in-laws onto it. My recommendation was validated when I recently received a text telling me how much they, too, loved their new hose. (These are people who research and weigh the pros and cons of anything before buying. So, yes, it's that good.)
A couple of things to mention before I tell you the one thing that I think makes this hose magical.
It's lightweight.
It's extra-flexible and kink-free. Meaning, no tangles, no twists, and no kinks that might halt water flow.
It has nine different spraying styles on the nozzle: flat, fully, shower, cone, jet, soaker, angle, mist, and center. Whatever your needs are, this will cover it.
It expands from 33 feet to 100 feet – up to three times it's length once you turn on the water.
And here is where the magic happens …
Once you turn off the water, it retracts back to the 33 feet on its own. It looks like a snake moving and pulling — like a living, breathing thing. (But don't let that scare you … it's just a hose!) It's mesmerizing and just so satisfying. It coils itself for you, so your outdoor space can easily stay nice and neat and organized.